prodigal

prod·i·gal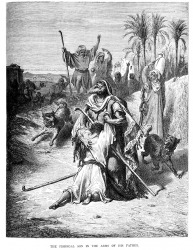 Vintage engraving of a scene from the New Testament by Gustave Dore showing the Prodigal son in his fathers arms.
adjective
The definition of prodigal is spending money carelessly and foolishly.

An example of prodigal is buying very expensive cars and homes.
noun
Prodigal is a person who left home, often under bad terms, and who then has a long-awaited and much celebrated return home.

An example of prodigal is a son who comes home to make peace with his father after a ten year fight.
---
prodigal
exceedingly or recklessly wasteful
extremely generous; lavish: prodigal with one's praise
extremely abundant; profuse
Origin of prodigal
Middle French from Classical Latin
prodigus
, prodigal from
prodigere
, to drive forth or away, waste from
pro-
, forth +
agere
, to drive: see pro- and act
a person who wastes his means; spendthrift

Origin of prodigal

after the prodigal son, a repentant wastrel who is welcomed back warmly on his homecoming: Luke 15:11-32 a person who returns after a willful absence
---
prodigal
adjective
Rashly or wastefully extravagant: prodigal expenditures on unneeded weaponry; a prodigal nephew who squandered his inheritance.
Giving or given in abundance; lavish or profuse: "the infinite number of organic beings with which the sea of the tropics, so prodigal of life, teems" ( Charles Darwin ) See Synonyms at profuse.
noun
One who is given to wasteful luxury or extravagance.
Origin of prodigal
Late Middle English
probably back-formation from
Middle English
prodigalite
from
Old French
from
Late Latin
prōdigālitās
from
Latin
prōdigus
prodigal
from
prōdigere
to drive away, squander
prōd-, prō-
for, forth
; see
proud
.
agere
to drive
; see
ag-
in Indo-European roots.
Related Forms:
---
prodigal

---