problematic

prob·lem·at·ic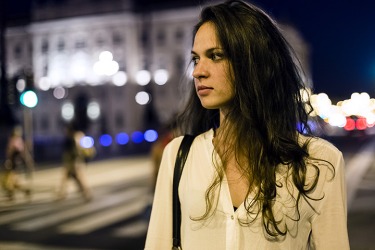 Rebecca's situation became problematic when she saw two people following her as she was walking down the street.
adjective
The definition of problematic is something that creates or presents a difficulty, or that seems to be untrue, unlikely or incorrect.

When you are stranded on a dark street late at night and you have no money to call a cab or take a bus home and no phone to reach anyone, this is an example of a problematic situation.
---
problematic
having the nature of a problem; hard to solve or deal with
not settled; yet to be determined; uncertain
Origin of problematic
French
problématique
from Classical Latin
problematicus
from Classical Greek
problematikos
from
probl?ma
(see problem) + -al
an unresolved problem or inherent difficulty, as in a field of study
---
problematic
adjective
also
prob·lem·at·i·cal
Posing a problem; difficult to solve: a repair that proved more problematic than first expected.
Open to doubt; debatable: "if you ever get married, which seems to me extremely problematic" ( Oscar Wilde )
Not settled; unresolved or dubious: a problematic future.
noun
Something that poses a problem or difficulty:
"

[a book that]

poses the problematics of memory in another light altogether"
(
Daphne Merkin
)
Related Forms:
prob′lem·at′i·cal·ly

adverb
---
problematic

Adjective
doubtful or uncertain in its outcome
Noun
(plural problematics)
(chiefly in the plural) A problem or difficulty in a particular field of study
Origin
Shortening of problematical, from Late Latin problematicus, from Ancient Greek προβληματικός (problÄ"matikos), from πρόβλημα (problÄ"ma, "outjutting, barrier, problem"), from προβάλλω (proballō, "I throw, place before"), from πρό (pro, "before") + βάλλω (ballō, "I throw, place").
---