prestigious

pres·ti·gious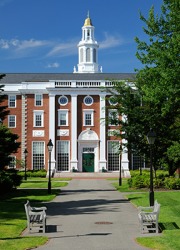 Harvard University is a prestigious school.
adjective
The definition of prestigious is someone or something that is highly respected or esteemed.

An example of something that would be described as prestigious is Harvard University.
---
prestigious
Archaic

of or characterized by legerdemain or deception

Origin of prestigious

re-formed from prestig(e) + -ous having or imparting prestige
Origin of prestigious
Classical Latin
praestigiosus
, full of deceitful tricks from
praestigium
, delusion: see prestige
---
prestigious
adjective
Having prestige; esteemed.
Related Forms:
---
prestigious

Adjective
(comparative more prestigious, superlative most prestigious)
Of high prestige.

She has a prestigious job with an international organization.
Usage notes
Objects: award, prize, job, address, school, university, college, club, journal, firm, institution, office, etc.
---