noun
Pants are trousers or clothing that you wear to cover your legs and bottom.

Jeans or business slacks that you wear in order to cover your legs and bottom are an example of pants.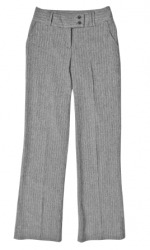 A pair of gray pants.
---
pants
☆
plural noun
an outer garment extending from the waist to the knees or ankles and divided into separate coverings for the legs: more formally called trousers
drawers or panties
Origin of pants
abbreviation, abbreviated of
pantaloons
---
pants
Verb
(third-person singular simple present pantses, present participle pantsing, simple past and past participle pantsed)
Adjective
(comparative more pants, superlative most pants)
Origin
Shortened from pantaloons ("trousers").
Verb
third-person singular simple present indicative form of pant
Origin
From the verb to pant (from Middle English panten and (hence) the noun pant.)
Suffix
(informal, usually pejorative) Used with adjectives ending in -y to form nicknames based on a negative quality of a person.

bossypants, fancypants, smarty pants, greedy-pants, pouty pants
Usage notes
Usually the adjective must be two syllable long and end in -y, eventually with an interfix if the original adjective is only one syllable.
As with fancypants usage has not yet settled as to whether this should be separate, linked with an hyphen as a suffixoid or fused like a normal affix.
---