noun
Pants are trousers or clothing that you wear to cover your legs and bottom.

Jeans or business slacks that you wear in order to cover your legs and bottom are an example of pants.
YourDictionary definition and usage example. Copyright © 2013 by LoveToKnow Corp.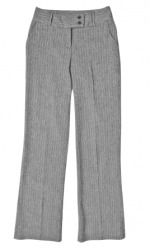 A pair of gray pants.
Licensed from iStockPhoto
---
☆
plural noun
an outer garment extending from the waist to the knees or ankles and divided into separate coverings for the legs: more formally called trousers
drawers or panties
Origin: abbrev. of pantaloons
Webster's New World College Dictionary
Copyright © 2010 by Wiley Publishing, Inc., Cleveland, Ohio.
Used by arrangement with John Wiley & Sons, Inc.
---
pants - Phrases/Idioms
The American Heritage® Dictionary of Idioms
by Christine Ammer. Copyright © 2003, 1997 by The Christine Ammer 1992 Trust. Published by Houghton Mifflin Harcourt Publishing Company. All rights reserved.