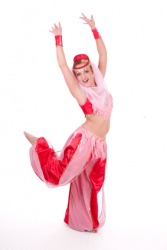 A woman dressed in harem pants.
---
harem pants
a kind of baggy trousers worn by women, made of lightweight fabric and closefitting at the ankles
---
harem pants
plural noun
Loosely fitted women's trousers that are gathered at the ankle.
Origin of harem pants
From the association of harems with Turkey, the origin of this style of clothing
.
---
harem pants
---