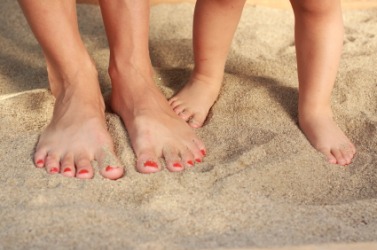 The ankles of a woman and baby.
---
ankle
noun
the joint that connects the foot and the leg
the area of the leg between the foot and calf
Origin of ankle
Middle English
ancle, ancleou
; from Old English
ancleow
(& uncertain or unknown; perhaps Old Norse
ǫkkla
) ; from Indo-European base an unverified form
ang-
, limb, variant, variety of an unverified form
ank-
, to bend from source angle, angle, Classical Greek
ankōn
, elbow,
ankylos
, crooked
---
ankle
noun
The joint formed by the articulation of the lower leg bones with the talus. The ankle connects the foot with the leg.
The slender section of the leg immediately above the foot.
Origin of ankle
Middle English
ancle, ankel
, partly from Old English
anclēow
and
partly of Scandinavian origin
.
---
ankle
Verb
(third-person singular simple present ankles, present participle ankling, simple past and past participle ankled)
(US, slang) To walk.
(cycling) To cyclically angle the foot at the ankle while pedaling, to maximize the amount of work applied to the pedal during each revolution.
Origin
From Middle English ankel, ancle, ankyl, from Old English *ancol (compare anclēow ("ankle") > Modern English anclef, ancliff, ancley), from Proto-Germanic *ankalaz ("ankle or hip"); akin to Icelandic ökkla, ökli, Danish and Swedish ankel, Dutch enklaauw, enkel, German enkel, Old Norse akka, Old Frisian anckel, and perhaps Old High German encha, ancha ("thigh, shin"), from the Proto-Germanic *ankijǭ ("ankle or hip").
Compare with Sanskrit अङ्ग (aṅga, "limb"), अङ्गुरि (aṅguri, "finger"). Compare with haunch and with Greek prefix ἀγκυλο- (ancylo-, "joint, crooked, bent").
---