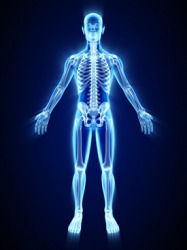 The human skeletal system contains 206 bones.
adjective
The definition of skeletal means related to bones.

An example of skeletal used as an adjective is skeletal muscles, the muscles that move the bones and support the skeleton.
---
skeletal
adjective
Of, relating to, forming, or of the nature of a skeleton.
Attached to or formed by a skeleton.
So thin or emaciated as to appear bony.
Extremely basic or simplified: a skeletal description of the events.
Related Forms:
---
skeletal

---