haggard

hag·gard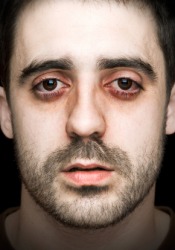 A man looking haggard.
adjective
The definition of haggard is someone or something that looks worn, tired, unkept and/or unwell.

An example of haggard is a sick person with unwashed hair and rumpled clothes.
An example of haggard is an old ratty blanket.
---
haggard
Falconry

designating a hawk captured after reaching maturity
untamed; unruly; wild

wild-eyed
having a wild, wasted, worn look, as from sleeplessness, grief, or illness; gaunt; drawn
Origin of haggard
Middle French
hagard
, untamed, untamed hawk
Haggard
1856-1925; Eng. writer, esp. of adventure novels
---
haggard
adjective
Exhausted or distraught and often gaunt in appearance.
Wild and intractable. Used of a hawk in falconry.
noun
An adult hawk captured for training.
Origin of haggard
French
hagard
wild
from
Old French
wild hawk, raptor
perhaps of Germanic origin
Related Forms:
---
haggard

Adjective
(comparative more haggard, superlative most haggard)
Looking exhausted, worried, or poor in condition
Noun
(plural haggards)
(dialect, Manx, Ireland) A stackyard, an enclosure on a farm for stacking grain, hay, etc.

"He tuk a slew [swerve] round the haggard"

(falconry) A hunting bird captured as an adult.

A "haggard" is a bird captured as an adult and therefore of unknown age; often, the law prohibits capturing birds of mating age. Falconry Pro

(falconry) A young or untrained hawk or falcon.
---