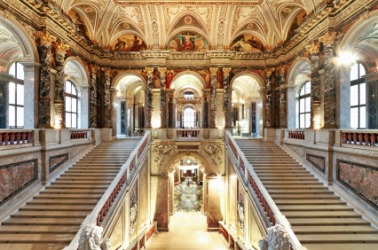 A palatial staircase.
adjective
The definition of palatial is spacious, grand or resembling a palace.

A huge, grand mansion that is castle-like is an example of a palatial home.
---
palatial
of, suitable for, or like a palace
large and ornate; magnificent; stately
Origin of palatial
from Classical Latin
palatium,
palace
---
palatial
adjective
Of or suitable for a palace: palatial furnishings.
Of the nature of a palace, as in spaciousness or ornateness: a palatial yacht.
Origin of palatial
From
Latin
Palātium
imperial residence
; see
palace
.
Related Forms:
---
palatial

Adjective
Of or relating to a palace.
On a grand scale; very rich furnishing(s).

The home where he lived was palatial.
Origin
From Latin palātium +"Ž -al.
---