adjective
The definition of own is something that belongs to oneself.

An example of own used as an adjective is the phrase is "make your own pasta," when a man makes pasta from scratch.
verb
To own is defined as to possess or acknowledge something.

An example of to own is purchasing a car stereo.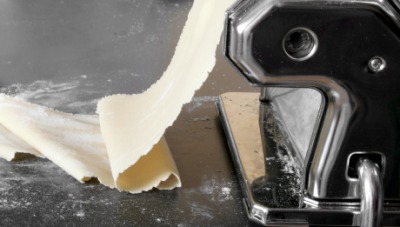 A machine for making your own pasta.
---
own definition by Webster's New World
adjective
belonging, relating, or peculiar to oneself or itself: used to strengthen a preceding possessive: his own book, her own idea

Now Rare

related by blood rather than by marriage
Origin: Middle English owen ; from Old English agen, past participle of agan, to possess: see owe
noun
,
pronoun
that which belongs to oneself: the car is his own; I have reasons of my own
transitive verb
to possess; hold as personal property; have
to admit; recognize; acknowledge
intransitive verb
to confess (to)
---
own definition by American Heritage Dictionary
adjective
Of or belonging to oneself or itself: She makes her own clothes.
noun
That which belongs to one: I wanted a room of my own.
verb
owned
,
own·ing
,
owns
verb
, transitive
a. To have or possess as property: owns a chain of restaurants.

b. To have control over: For a time, enemy planes owned the skies.

To admit as being in accordance with fact, truth, or a claim; acknowledge.
verb
, intransitive
To make a full confession or acknowledgment:
When confronted with the evidence the thief owned up.
See Synonyms at
acknowledge
.
Origin: Middle English owen, from Old English āgen; see aik- in Indo-European roots.
Related Forms:
The American Heritage® Dictionary of the English Language, 4th edition Copyright © 2010 by Houghton Mifflin Harcourt Publishing Company. Published by Houghton Mifflin Harcourt Publishing Company. All rights reserved.
---
own - Phrases/Idioms
come into one's own
to receive what properly belongs to one, esp. acclaim or recognition
get one's own back
Chiefly Brit., Informal
to get or take revenge; get even
of one's own
belonging strictly to oneself
on one's own
Informal
by one's own efforts or on one's own initiative
independent of help from others
on (one's) own
By one's own efforts:

She got the job on her own.

Responsible for oneself; independent of outside help or control:

He is now out of college and on his own.