own

own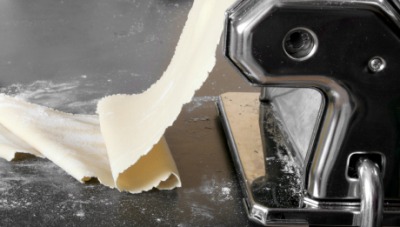 A machine for making your own pasta.
adjective
The definition of own is something that belongs to oneself.

An example of own used as an adjective is the phrase is "make your own pasta," when a man makes pasta from scratch.
verb
To own is defined as to possess or acknowledge something.

An example of to own is purchasing a car stereo.
---
own
belonging, relating, or peculiar to oneself or itself: used to strengthen a preceding possessive: his own book, her own idea

Now Rare

related by blood rather than by marriage
Origin of own
Middle English
owen
from Old English
agen,
past participle of
agan,
to possess: see owe
that which belongs to oneself: the car is his own; I have reasons of my own
to possess; hold as personal property; have
to admit; recognize; acknowledge
come into one's own
to receive what properly belongs to one, esp. acclaim or recognition
get one's own back
Chiefly Brit., Informal
to get or take revenge; get even
of one's own
belonging strictly to oneself
on one's own
Informal
by one's own efforts or on one's own initiative
independent of help from others
---
own
adjective
Of or belonging to oneself or itself: She makes her own clothes.
noun
That which belongs to one: I wanted a room of my own.
verb
owned, own·ing, owns
verb
transitive
a. To have or possess as property: owns a chain of restaurants.

b. To have control over: For a time, enemy planes owned the skies.

To admit as being in accordance with fact, truth, or a claim; acknowledge: "I own that I have been sly, thievish, mean, a prevaricator, greedy, derelict, / and I own that I remain so yet" ( Walt Whitman )
verb
intransitive
To make a full confession or acknowledgment:
When confronted with the evidence the thief owned up to the crime.
See Synonyms at
acknowledge
.
Origin of own
Middle English
owene, owne
from
Old English
āgen
; see
aik-
in Indo-European roots.
Related Forms:
---
own

Verb
(third-person singular simple present owns, present participle owning, simple past and past participle owned)
To have rightful possession of (property, goods or capital); "To possess by right; to have the right of property in; to have the legal right or rightful title to." (Ref 1)

I own this car.

To claim as one's own; to answer to.
To defeat or embarrass; to overwhelm.

I will own my enemies.
If he wins, he will own you.

To virtually or figuratively enslave.
(gaming, slang) To defeat, dominate, or be above, also spelled pwn.
(computing, slang) To illicitly obtain "super-user" or "root" access into a computer system thereby having access to all of the user files on that system; pwn.
(intransitive) To admit to be true; concede, grant, allow, acknowledge, confess; not to deny; to admit to be true. (Ref 2)
(intransitive) To acknowledge or admit the possession or ownership of. (Ref 3)
Origin
From Middle English ownen, from Old English āgnian ("to own"). Cognate with German eignen, Swedish ägna, Icelandic eiga. See also the related term owe.
Adjective
Belonging to; possessed; proper to.

Surprisingly, I realised my own brother had the same idea as me.   You need to find your own seat - this one is mine.   He gave her a pen, because he already had his own.   The restored Maxwell is Bob's own car.   They went this way, but we need to find our own way.   We have made some arrangements, but you will need to make your own.   They were all prepared for the picnic, because they had all brought their own food and plates.
Usage notes
implying ownership, often with emphasis. It always follows a possessive pronoun, or a noun in the possessive case.
Origin
From Middle English owen, aȝen, from Old English āgen ("own, proper, peculiar"), from Proto-Germanic *aiganaz ("own"), from Proto-Indo-European *eiḱ- ("to have, possess"). Cognate with Scots ain ("own"), Dutch eigen ("own"), German eigen ("own"), Swedish egen ("own"), Icelandic eigin ("own").
Origin
From Middle English unnen ("to favour, grant"), from Old English unnan ("to grant, allow, recognise, confess"), from Proto-Germanic *unnanÄ… ("to grant, thank"), from Proto-Indo-European *ān- ("to notice"). Akin to German gönnen (from Old High German gi- + unnan), Old Norse unna (Danish unde) . In Gothic only the substantive 𐌰𐌽𐍃𐍄𐍃 (ansts) is attested.
---