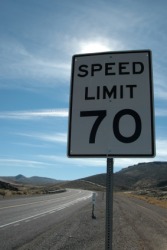 This is the maximum speed allowed on this road.
adjective
The definition of maximum is the largest number or highest number of something that is permissible or possible.

When you are going as fast a the car will possibly allow, this is an example of reaching the maximum speed.
---
maximum
noun
pl.

-·mums

or

-·ma
the greatest quantity, number, or degree possible or permissible
the highest degree or point (of a varying quantity, as temperature) reached or recorded; upper limit of variation

Math.

the largest of a specified set of real numbers
Origin of maximum
L, neuter of
maximus
, superlative of
magnus
, great: see magni-
greatest possible, permissible, or reached
of, marking, or setting a maximum or maximums
---
maximum
noun
pl.
max·i·mums,
or
max·i·ma
a. The greatest possible quantity or degree.

b. The greatest quantity or degree reached or recorded; the upper limit of variation.

c. The time or period during which the highest point or degree is attained.

An upper limit permitted by law or other authority.
Astronomy

a. The moment when a variable star is most brilliant.

b. The magnitude of the star at such a moment.

Mathematics

a. The greatest value assumed by a function over a given interval.

b. The largest number in a set.
adjective
Having or being the greatest quantity or the highest degree that has been or can be attained: maximum temperature.
Of, relating to, or making up a maximum: a maximum number in a series.
Origin of maximum
Latin
from
neuter of
maximus
greatest
; see
meg-
in Indo-European roots.
---
maximum

Noun
(plural maxima or maximums)
(mathematics) The greatest value of a set or other mathematical structure, especially the global maximum or a local maximum of a function.
(analysis) An upper bound of a set which is also an element of that set.
(statistics) The largest value of a batch or sample or the upper bound of a probability distribution.
(colloquial, snooker) A 147 break; the highest possible break.
(colloquial, cricket) A scoring shot for 6 runs.
Usage notes
Maxima is the more common plural, especially for the technical senses.
Adjective
(not comparable)
To the highest degree.

Use the proper dose for the maximum effect.
Origin
French from Latin maximum.
---