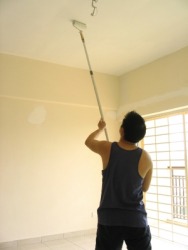 A man painting a ceiling.
noun
The definition of ceiling means the topmost part of the inside of a room, or the upper limit.

An example of the ceiling is the part of a room that is opposite the floor.
An example of a ceiling is the most that someone is willing to pay.
---
ceiling
the inside top part or covering of a room, opposite the floor
any overhanging expanse seen from below
an upper limit set on anything, as by official regulation: a ceiling on prices

Aeron.

a covering of clouds limiting vertical visibility
the height of the lower surface of such a covering
the maximum height at which an aircraft can fly under normal conditions
Origin of ceiling
from ceil
hit the ceiling
Slang
to lose one's temper
---
ceiling
noun
a. The upper interior surface of a room.

b. Material used to cover this surface.

Something resembling a ceiling: a ceiling of leaves over the arbor.
An upper limit, especially as set by regulation: wage and price ceilings.

a. The highest altitude under particular weather conditions from which the ground is still visible.

b. The altitude of the lowest layer of clouds.

c. The maximum altitude that an aircraft can reach under a given set of conditions, such as a minimum rate of climb.

Nautical The planking applied to the interior framework of a ship.
Origin of ceiling
Middle English
celing
from
celen
to ceil
; see
ceil
.
Related Forms:
---
ceiling

Noun
(plural ceilings)
The surface that bounds the upper limit of a room.

the dining room had an ornate ceiling

The upper limit of an object or action.

price ceilings

(aviation) The highest altitude at which an aircraft may fly.
(mathematics) The smallest integer greater than or equal to a given number.

the ceiling of 4.5 is 5, the ceiling of -4.5 is -4

(nautical) The inner planking of a vessel.
Verb
Present participle of ceil.
Origin
From Middle English ceiling, from ceil ("to cover") + -ing.
---