climax

cli·max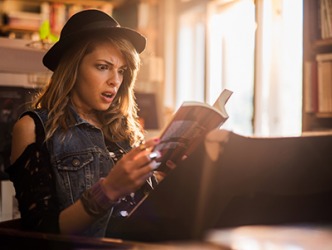 Zoey is shocked while reading the climax of the novel.
noun
The definition of climax is the most intense or highest point of something, or an orgasm.

An example of a climax is during an action film when it seems the hero won't arrive in time to save the day.
An example of a climax is when a man ejaculates during sex.
---
climax
a rhetorical series of ideas, images, etc. arranged progressively so that the most forceful is last
the final, culminating element or event in a series; highest point, as of interest or excitement; specif.,

the decisive turning point of the action, as in a drama
an orgasm

Ecol.

a final, self-perpetuating community of plants and animals that develops in a particular climate, soil, etc.: it will persist as long as the same conditions prevail
Origin of climax
Late Latin from Classical Greek
klimax,
ladder from base of
klinein,
to slope: see incline
to reach or bring to a climax
---
climax
noun
The point of greatest intensity or force in an ascending series or progression; a culmination. See Synonyms at summit.

a. A series of statements or ideas in an ascending order of rhetorical force or intensity.

b. The final statement in such a series.

a. A moment of great or culminating intensity in a narrative or drama, especially the conclusion of a crisis.

b. The turning point in a plot or dramatic action.

See orgasm.
Ecology A climax community.
tr. & intr.v.
cli·maxed, cli·max·ing, cli·max·es
To bring to or reach a climax.
Origin of climax
Latin
clīmax
rhetorical climax
from
Greek
klīmax
ladder
; see
klei-
in Indo-European roots.
---
climax

Verb
(third-person singular simple present climaxes, present participle climaxing, simple past and past participle climaxed)
Origin
From Latin clīmax, from Ancient Greek κλῖμαξ (klimaks, "a ladder, a staircase, a climax in rhetoric"), from κλίνω (klinō, "I lean, slant").
See also:
clímax
---