adjective
The definition of manly is something having the characteristics or traditional virtues generally attributed to men.

Being big, tough and strong is an example of being manly.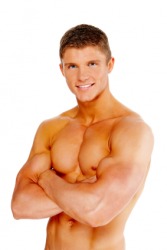 This guy might be considered manly.
---
manly definition by Webster's New World
adjective
manlier, manliest
having the qualities generally regarded as those that a man should have; virile; strong, brave, resolute, honorable, etc.
fit for a man; masculine: manly sports
Origin: ME: see man and amp; -ly
Webster's New World College Dictionary Copyright © 2010 by Wiley Publishing, Inc., Cleveland, Ohio. Used by arrangement with John Wiley & Sons, Inc.
---
manly definition by American Heritage Dictionary
adjective
man·li·er
,
man·li·est
Having qualities traditionally attributed to a man.
Belonging to or befitting a man; masculine. See Synonyms at male.
adverb
In a manly manner.
Related Forms: