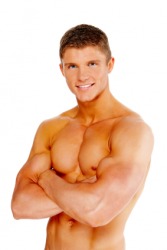 This guy might be considered manly.
adjective
The definition of manly is something having the characteristics or traditional virtues generally attributed to men.

Being big, tough and strong is an example of being manly.
---
manly
adjective
-·lier

,

-·li·est
having the qualities generally regarded as those that a man should have; virile; strong, brave, resolute, honorable, etc.
fit for a man; masculine: manly sports
Origin of manly
ME: see man and -ly
---
manly
adjective
man·li·er, man·li·est
Of, relating to, or characteristic of men, especially when considered traditionally masculine, as in being courageous or direct: "Few men who are just about to go off on an adventure can resist a manly swig from a convenient bottle of whisky" ( Jane Stevenson )
Well-developed or toned in musculature: a manly physique.
adverb
In a manly manner.
Related Forms:
---
manly

---