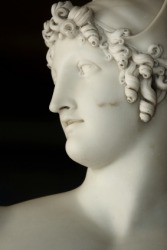 A statue of Apollo.
---
Apollo definition by Webster's New World
noun
Gr. & Rom. Myth.

the god of music, poetry, prophecy, and medicine, represented as exemplifying manly youth and beauty: later identified with Helios
pl. Apollos any handsome young man
Origin: Classical Latin ; from Classical Greek Apollōn
Webster's New World College Dictionary Copyright © 2010 by Wiley Publishing, Inc., Cleveland, Ohio. Used by arrangement with John Wiley & Sons, Inc.
---
Apollo definition by American Heritage Dictionary
noun
Greek Mythology The god of prophecy, music, medicine, and poetry, sometimes identified with the sun.
apollo pl. apol·los A young man of great physical beauty.
Origin: Latin Apollō, from Greek Apollōn.
The American Heritage® Dictionary of the English Language, 4th edition Copyright © 2010 by Houghton Mifflin Harcourt Publishing Company. Published by Houghton Mifflin Harcourt Publishing Company. All rights reserved.
---
apollo - Computer Definition
(1) The code name for Windows Phone 8. See Windows Phone.
(2) The code name for Adobe's cross-platform development system. See Adobe AIR.
(3) An earlier manufacturer of high-performance workstations, founded in 1980. Pioneering the concept of tying workstations together across a network, Apollo became a division of HP in 1989.
Computer Desktop EncyclopediaTHIS DEFINITION IS FOR PERSONAL USE ONLYAll other reproduction is strictly prohibited without permission from the publisher.© 1981-2014 The Computer Language Company Inc. All rights reserved.
---
Apollo - Cultural Definition
The Greek and Roman god of poetry, prophecy, medicine, and light. Apollo represents all aspects of civilization and order. He was worshiped at the Delphic oracle, where a priestess gave forth his predictions. Zeus was his father, and Artemis was his sister. He is sometimes identified with Hyperion, the Titan he succeeded.