livid

liv·id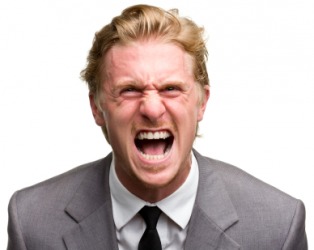 This man is livid.
adjective
The definition of livid is discolored by a bruise or someone furious with anger.

When you break an expensive vase on purpose that you know your mother loves, this is an example of a situation where your mom might be livid.
---
livid
discolored by a bruise; black-and-blue

grayish-blue; lead-colored
pallid; ashen
dark red in the face; flushed: livid with rage

very angry; enraged
Origin of livid
from French or L: French
livide
from Classical Latin
lividus
, akin to
livere
, to be black and blue from Indo-European an unverified form
(s)l?wos-
from base an unverified form
(s)li-
, bluish from source sloe, Old Church Slavonic
sliva
, plum
---
livid
adjective
Discolored, as from a bruise; black-and-blue.
Ashen or pallid: a face livid with shock.
Extremely angry; furious.
Origin of livid
Middle English
livide
from
Old French
from
Latin
līvidus
from
līvēre
to be bluish
; see
sleiə-
in Indo-European roots.
Related Forms:
li·vid′i·ty liv′id·ness

noun
---
livid

Origin
From Latin lÄ«vidus ("blueish, livid; envious"), from lÄ«veō ("be of a bluish color or livid; envy"), from Old Latin *slivere, from Proto-Indo-European *sliwo-, suffixed form of *(s)leie- ("bluish"). Also see Old English sla ("sloe"), Welsh lliw ("splendor, color"), Old Irish li, Lithuanian slywas ("plum"), Russian and Old Church Slavonic сливовый (slivovyj, "plum").
---