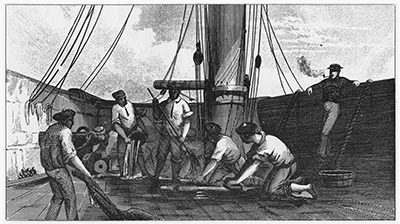 Sailors on long voyages during the 1700's and 1800's would develop scurvy due to the lack of Vitamin C in their diet.
adjective
The definition of scurvy is an offensive or mean person.

An example of scurvy is someone stealing Halloween candy baskets from children on Halloween night.
noun
Scurvy is a disease caused by not getting enough ascorbic acid.

An example of scurvy is feeling weak and dizzy from not getting enough vitamin C in your diet.
---
scurvy
adjective
-·vier

,

-·vi·est
scurfy
low; mean; vile; contemptible
Origin of scurvy
from scurf
a disease resulting from a deficiency of ascorbic acid in the body, characterized by weakness, anemia, spongy gums, bleeding from the mucous membranes, etc.
Origin of scurvy
< scurvythe adjective
---
scurvy
noun
A disease caused by deficiency of vitamin C, characterized by spongy and bleeding gums, bleeding under the skin, and extreme weakness.
adjective
scur·vi·er, scur·vi·est
Mean; contemptible.
Origin of scurvy
From
Middle English
scurfy
characterized by scurf
(
influenced by
French
scorbut
scurvy
)
from
scurf
scurf
; see
scurf
.
Related Forms:
---
scurvy

---