lick

lick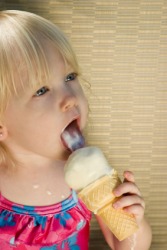 A little girl licks an ice cream cone.
noun
The definition of a lick is a small amount.

An example of a lick is someone with very little common sense; a lick of common sense.
verb
Lick is defined as to lightly touch the tongue to, move the tongue across or wet with the tongue.

An example of lick is how you'd eat a soft serve ice cream in a cone.
An example of lick is using your tongue to wet the back of a stamp.
---
lick
to pass the tongue over: to lick one's lips
to bring into a certain condition by passing the tongue over: to lick one's fingers clean
to pass lightly over like a tongue: flames licking the logs

Informal

to whip; thrash
to overcome, vanquish, or control
Origin of lick
Middle English
licken
from Old English
liccian
, akin to German
lecken
from Indo-European base an unverified form
lei?h-
, to lick from source Classical Greek
leichein
, Classical Latin
ligurrire
, to lick,
lingere
, to lick up
to move lightly and quickly, as a flame: waves licking about her feet
the act or an instance of licking with the tongue
a small quantity
salt lick

Informal

a sharp blow
a short, rapid burst of activity, often careless, as in cleaning up, etc.
a fast pace; spurt of speed; clip

Slang

a phrase of jazz music, esp. an interpolated improvisation
[often pl.]

Slang

chance; turn: to get one's licks in
lick into shape
Informal
to bring into proper condition by careful, persistent work
Origin of lick
from an old belief that bear cubs were born formless and their parents had to shape them by licking them
lick one's chops
Informal
to anticipate something eagerly
lick one's wounds
to withdraw physically or emotionally after experiencing failure, humiliation, or disappointment, as to collect or console oneself
lick up
to consume as by licking or lapping
---
lick
verb
licked, lick·ing, licks
verb
transitive
To pass the tongue over or along: lick a stamp.
To lap up: The cat licked the milk from the bowl.
To lap or flicker at like a tongue: The waves licked the sides of the boat.
Slang

a. To beat or thrash.

b. To defeat soundly: licked their rivals in lacrosse.

c. To deal with effectively; overcome: licked her weight problem.
verb
intransitive
To pass or lap quickly and rapidly: The flames licked at our feet.
noun
The act or process of licking.
An amount obtained by licking: a lick of ice cream.
A small quantity; a bit: hasn't got a lick of common sense.
A deposit of exposed natural salt that is licked by passing animals.
Slang A sudden hard stroke; a blow.
Slang An attempt; a try: Why not give those skis a lick?
Informal Speed; pace: moving along at a good lick.
Music A phrase improvised by a soloist, especially on the guitar or banjo.
Origin of lick
Middle English
licken
from
Old English
liccian
; see
leigh-
in Indo-European roots.
Related Forms:
---
lick

Noun
(plural licks)
The act of licking; a stroke of the tongue.

The cat gave its fur a lick.

A quick and careless application of anything, as if by a stroke of the tongue, or of something which acts like a tongue.

a lick of paint; to put on colours with a lick of the brush

A small watercourse or ephemeral stream. It ranks between a rill and a stream.

We used to play in the lick.

(colloquial) A bit.

You don't have a lick of sense.
I didn't do a lick of work today.

(music) A short motif.

There are some really good blues licks in this solo.

speed. In this sense it is always qualified by good, or fair or a similar adjective.

The bus was travelling at a good lick when it swerved and left the road.
Verb
(third-person singular simple present licks, present participle licking, simple past and past participle licked)
(colloquial) To defeat decisively, particularly in a fight.

My dad can lick your dad.

(colloquial) To overcome.

I think I can lick this.

(vulgar, slang) To perform cunnilingus.
(colloquial) To do anything partially.
(of flame, waves etc.) To lap
To lap; to take in with the tongue.

A cat licks milk.
Origin
From Old English liccian, from Proto-Germanic *likkōnÄ… (compare East Frisian likje, Dutch likken, German lecken), from Proto-Indo-European *leiǵʰ- (compare Old Irish ligid, Latin lingō ("lick"), ligguriō ("to lap, lick up"), Lithuanian laižyti, Old Church Slavonic лизати (lizati), Ancient Greek λείχω (leíkhō), Old Armenian Õ¬Õ«Õ¦Õ¥Õ´ (lizem), Persian لیسیدن (lisidan), Sanskrit लेढि (léḍhi), रेढि (réḍhi)).
---