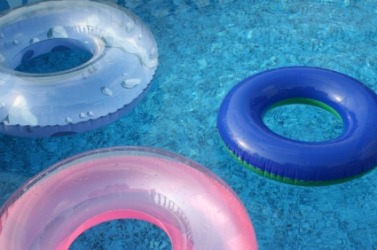 Three floating innertubes.
adjective
The definition of floating is something that is buoyed up by water or air, or something that can fluctuate and change.

A raft that is supported by water and that remains on the surface of the swimming pool is an example of something that is floating.
A variable interest rate on your mortgage is an example of a floating rate.
---
floating
that floats
not fixed; not remaining in one place; moving about

Finance

designating an unfunded, short-term debt resulting from current operations and having no specified date for repayment
not permanently invested; available for current expenses: floating capital

Mech.

designating or of parts, as in a suspension, that reduce force or vibration

Med.

displaced from the normal position and moving more freely: a floating kidney
---
floating
adjective
Buoyed on or suspended in or as if in a fluid.
Not secured in place; unattached.
Inclined to move or be moved about: a floating meeting; floating crap games.

a. Permitted to rise or fall in response to the market: a floating exchange rate; a floating interest rate.

b. Having an exchange rate or interest rate that rises or falls in response to the market: a floating currency; a floating loan.

Being short-term debt that is continuously refinanced.
Economics Available for use; in circulation. Used of capital.
Designed or constructed to operate smoothly and without vibration.
Of or relating to an organ of the body that is movable or out of normal position: a floating kidney.
---
floating

Adjective
(not comparable)
That which floats or float.

floating buoys

Not fixed in position, opinion etc.; free to move or drift.

The outcome of the forthcoming election is still unclear due to the large number of floating voters.
In China, the large floating population has tended to gravitate to cities.
You can drag the floating toolbars to any position on the screen.
Verb
Present participle of float.
Noun
(plural floatings)
(in the plural) Material that floats in a liquid.
---