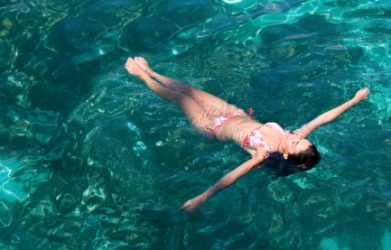 This woman is afloat.
adjective
Afloat is defined as having enough financial resources for your needs.

Finding investors to keep a business from failing is an example of keeping a business afloat.
adverb
The definition of afloat refers to something that stays on the surface of the water and does not sink.

A person who is treading water is an example of a person who is staying afloat.
---
afloat
floating freely; not grounded; esp., floating on the surface; not sinking
on board ship; at sea
flooded: the lower deck is afloat
drifting about
in circulation; current: rumors are afloat
free of trouble, debt, etc., esp. with effort: he kept the business afloat
---
afloat
adverb
adjective
In a floating position or condition.
On a boat or ship away from the shore; at sea.
In circulation; prevailing: Rumors are afloat.
Awash; flooded.
Drifting about; moving without guidance.
Free or out of difficulty, especially financial difficulty: couldn't keep the business afloat.
---
afloat

---