adjective
The definition of adrift is someone or something moving aimlessly without power, direction or restrictions.

A boat that is floating on the water with no means of steering or stopping is an example of being adrift.
A person who has no career plans or goals may be an example of a person who is adrift.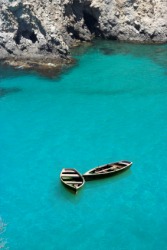 Two small boats adrift.
---
adrift
adverb
,
adjective
floating freely without being steered; not anchored; drifting
without any particular aim or purpose
---
adrift
adverb
& adj.
Drifting or floating freely; not anchored.
Without direction or purpose: "The report is about people in their twenties and how alienated and adrift they feel" (Tom Shales).
---
adrift
Adjective
(comparative more adrift, superlative most adrift)
(chiefly UK, often with of) Behind one's opponents, or below a required threshold in terms of score, number or position.

The team were six points adrift of their rivals.
Adverb
(comparative more adrift, superlative most adrift)
---