noun
Endurance is defined as the act of working very hard without stopping, even in the face of difficult situations or pain.

An example of endurance is what a marathon runner has to have to get through a race.
YourDictionary definition and usage example. Copyright © 2013 by LoveToKnow Corp.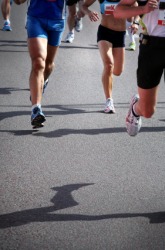 It takes endurance to run a marathon.
Licensed from iStockPhoto
---
noun
the act of enduring
the power of enduring; specif.,

ability to last, continue, or remain
ability to stand pain, distress, fatigue, etc.; fortitude

duration

Rare

that which is endured; hardship
Webster's New World College Dictionary
Copyright © 2010 by Wiley Publishing, Inc., Cleveland, Ohio.
Used by arrangement with John Wiley & Sons, Inc.
---
noun
The act, quality, or power of withstanding hardship or stress: A marathon tests a runner's endurance.
The state or fact of persevering: Through hard work and endurance, we will complete this project.
Continuing existence; duration.
The American Heritage® Dictionary of the English Language
, 4th edition Copyright © 2010 by Houghton Mifflin Harcourt Publishing Company. Published by Houghton Mifflin Harcourt Publishing Company. All rights reserved.