endurance

en·dur·ance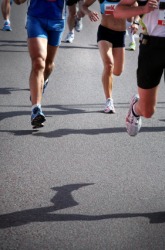 It takes endurance to run a marathon.
noun
Endurance is defined as the act of working very hard without stopping, even in the face of difficult situations or pain.

An example of endurance is what a marathon runner has to have to get through a race.
---
endurance
the act of enduring
the power of enduring; specif.,

ability to last, continue, or remain
ability to stand pain, distress, fatigue, etc.; fortitude

duration

Rare

that which is endured; hardship
---
endurance
noun
The act, quality, or power of withstanding hardship or stress: A marathon tests a runner's endurance.
The state or fact of persevering: Through hard work and endurance, we will complete this project.
Continuing existence; duration.
---
endurance

Noun
(countable and uncountable, plural endurances)
The measure of a person's stamina or persistence.

He has great endurance, he ran a marathon and then rode his bicycle home.

Ability to endure hardship.
Origin
[Late 15th Century] From Middle French endurance, from Old French endurance.
---