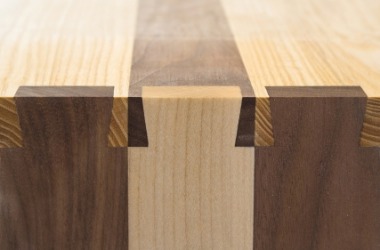 Dovetailed joints.
noun
The definition of a dovetail is an interlocking wood joint formed by a wedge-shaped part joined with a matching cut-out area in the wood.

An example of dovetail is what woodworkers use to attach the front of a dresser drawer.
---
dovetail
a part or thing shaped like a dove's tail; specif., a projecting, wedge-shaped part (tenon) that fits into a corresponding cut-out space (mortise) to form an interlocking joint
a joint thus formed
to join or fasten together by means of dovetails
to piece together (facts, etc.) so as to make a logically connected whole
to fit together closely or logically

---
dovetail
noun
A fan-shaped tenon that forms a tight interlocking joint when fitted into a corresponding mortise.
A joint formed by interlocking one or more such tenons and mortises.
verb
dove·tailed, dove·tail·ing, dove·tails
verb
transitive
To cut into or join by means of dovetails.
To connect or combine precisely or harmoniously.
verb
intransitive
To be joined together by means of dovetails.
To combine or interlock into a unified whole: The nurses' schedules dovetailed, so that one was always on duty.
dovetail
---
dovetail

Verb
(third-person singular simple present dovetails, present participle dovetailing, simple past and past participle dovetailed)
(woodworking) To unite with a dovetail joint.
To fit together well.

The parts of your essay should dovetail so that it is cohesive and coherent.
---