noun
The definition of a dovetail is an interlocking wood joint formed by a wedge-shaped part joined with a matching cut-out area in the wood.

An example of dovetail is what woodworkers use to attach the front of a dresser drawer.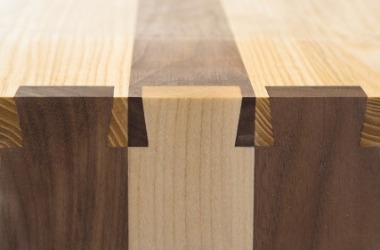 Dovetailed joints.
---
dovetail definition by Webster's New World
noun
a part or thing shaped like a dove's tail; specif., a projecting, wedge-shaped part (tenon) that fits into a corresponding cut-out space (mortise) to form an interlocking joint
a joint thus formed
transitive verb
to join or fasten together by means of dovetails
to piece together (facts, etc.) so as to make a logically connected whole
intransitive verb
to fit together closely or logically
Webster's New World College Dictionary Copyright © 2010 by Wiley Publishing, Inc., Cleveland, Ohio. Used by arrangement with John Wiley & Sons, Inc.
---
dovetail definition by American Heritage Dictionary
noun
A fan-shaped tenon that forms a tight interlocking joint when fitted into a corresponding mortise.
A joint formed by interlocking one or more such tenons and mortises.
verb
dove·tailed
,
dove·tail·ing
,
dove·tails
verb
, transitive
To cut into or join by means of dovetails.
To connect or combine precisely or harmoniously.
verb
, intransitive
To be joined together by means of dovetails.
To combine or interlock into a unified whole: The nurses' schedules dovetailed, so that one was always on duty.
dovetail