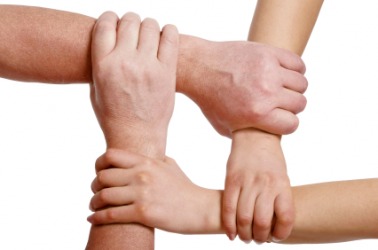 Interlocking hands.
verb
The definition of interlock is to be linked or joined with something by having parts overlapping, criss-crossed or fitted together.

When you hold hands with someone and you twist and wind your fingers together, this is an example of when you interlock your hands.
---
interlock
to lock together; join with one another
to connect or be connected so that neither part can be operated independently
the condition of being interlocked
a device or arrangement by means of which the functioning of one part is controlled by the functioning of another, as for safety
---
interlock
verb
in·ter·locked, in·ter·lock·ing, in·ter·locks
verb
transitive
To unite or join closely as by hooking or dovetailing.
To connect together (parts of a mechanism, for example) so that the individual parts affect each other in motion or operation.
verb
intransitive
To become united or joined closely, as by hooking or dovetailing.
noun
A mechanical device that prevents a component from functioning when another component is functioning or situated in a particular way.
A stretchy fabric knitted with interlocking stitches by alternating sets of needles on a circular knitting machine.
---
interlock

Verb
(third-person singular simple present interlocks, present participle interlocking, simple past and past participle interlocked)
To fit together securely.
To interlace.
Noun
(plural interlocks)
A safety device that prevents activation in unsafe conditions.

The demonstrator couldn't figure out why the machine wouldn't work, until he remembered that there was an interlock so it wouldn't operate with the cover open.
---
interlock - Computer Definition
A device that prohibits an action from taking place.
---