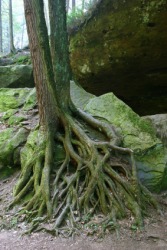 Intertwining tree roots.
verb
The definition of intertwine is to join things by combining together.

When you start to share a house with someone and your possessions get mixed together and you begin to share each other's friends and activities, this is an example of a time when your lives begin to intertwine.
---
intertwine
transitive verb
intransitive verb
-·twined′

,

-·twin′ing
to twine together; intertwist
---
intertwine
tr. & intr.v.
in·ter·twined, in·ter·twin·ing, in·ter·twines
To join or become joined by twining together.
Related Forms:
---
intertwine

Verb
(third-person singular simple present intertwines, present participle intertwining, simple past and past participle intertwined)
To twine something together.
(intransitive) To become twined together.
---