dove

Dove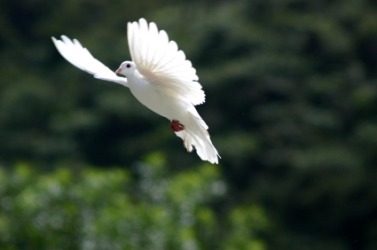 A dove in flight.
noun
The definition of a dove is a small white pigeon used as a symbol for peace, or a person who wants peace.

An example of a dove is a little white bird with a round body, small head and short legs that makes cooing sounds.
An example of a dove is a congressperson who does not want the U. S. to go to war.
---
dove
pigeon, esp. the smaller species: it is often used as a symbol of peace
an advocate of measures in international affairs designed to avoid or reduce open hostilities
a person regarded as gentle, innocent, or beloved
Origin of dove
Middle English
douve
from Old English an unverified form
dufe
or Old Norse
d?fa
, akin to Gothic
d?bo
, German
taube
from Indo-European an unverified form
dheubh-
, obscured, dark (of color) from base an unverified form
dheu-
: see dull
---
dove
noun
Any of various widely distributed birds of the family Columbidae, which includes the pigeons, having a small head and a characteristic cooing call.
A gentle, innocent person.
A person who advocates peace, conciliation, or negotiation in preference to confrontation or armed conflict.
Origin of dove
Middle English
douve
from
Old English
dūfe
Related Forms:
verb
A past tense of
dive
1
See Usage Note at
dive
1
.
Dove
---
dove

---