dovecote
[duv′kōt′, -kät′]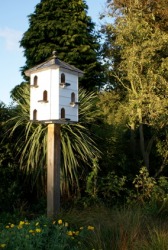 A dovecote in a garden.
---
dovecote
---
dovecote
also dove·cot
noun
A compartmental structure, often raised on a pole, for housing domesticated pigeons.
---
dovecote
Noun
(plural dovecotes)
A small house or box, raised to a considerable height above the ground, and having compartments, in which domestic pigeons breed; a dove house.
---