Dover
[dō′vər]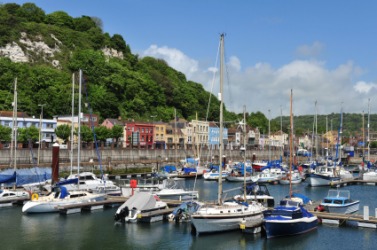 Boats in the harbor of Dover.
---
Dover
seaport in Kent, SE England, on the Strait of Dover: county district pop. 103,000

Origin of Dover

after the seaport capital of Del., in the central part: pop. 32,000

strait between France and England, joining the North Sea and the English Channel: narrowest point, 21 mi (34 km)
---
Dover
A town of southeast England on the Strait of Dover opposite Calais, France. It has been a strategic port since Roman times and is the site of a well-preserved medieval castle.
The capital of Delaware, in the central part of the state. It was founded in 1683 on orders from William Penn.
---
Dover
Proper noun
A city in Ohio.
Origin
From Old English Dofras, from Latin Dubris, from Brythonic Dubras ("the waters"), from Proto-Celtic *dubro ("river"). Compare Tauber.
---
Dover
Variant of Dover
seaport in Kent, SE England, on the Strait of Dover: county district pop. 103,000

Origin of Dover

after the seaport capital of Del., in the central part: pop. 32,000

strait between France and England, joining the North Sea and the English Channel: narrowest point, 21 mi (34 km)