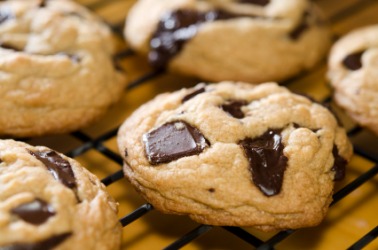 Big chunks of chocolate in a cookie.
noun
The definition of a chunk is a thick or large piece of something.

An example of a chunk is a large piece of chocolate in a cookie.
---
chunk
a short, thick piece, as of meat or wood
a considerable portion
a stocky animal, esp. a horse
Origin of chunk
from uncertain or unknown; perhaps chuck
to form into a chunk or chunks
to assmble into a group or groups
---
chunk
noun
A thick mass or piece: a chunk of ice.
Informal A substantial amount: won quite a chunk of money.
A strong stocky horse.
verb
chunked, chunk·ing, chunks
verb
transitive
To form into chunks.
verb
intransitive
To make a dull clacking sound: listened to the rundown copier chunk along.
Origin of chunk
Perhaps variant of
chuck
2
---
chunk

Noun
(plural chunks)
A representative of a substance at large, often large and irregular.

A chunk of granite.
Verb
(third-person singular simple present chunks, present participle chunking, simple past and past participle chunked)
To break into large pieces or chunks.
(slang, chiefly Southern US) To throw.
---