canning

can·ning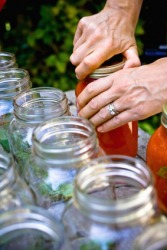 A woman canning tomato sauce.
verb
The definition of canning is the act of preserving food in jars, or firing someone.

When you cut up cucumbers and make them into pickles that you preserve in a jar to eat throughout the winter, this is an example of canning.
When you fire your useless assistant for forgetting to tell you about an important meeting, this is an example of a time when you are canning your assistant.
---
canning
the act, process, or work of putting foods in cans or jars for preservation
Canning
1770-1827; Brit. statesman: prime minister (1827)
---
canning

Verb
Present participle of can.
Noun
(uncountable)
The process of preserving food by heat processing in a sealed vessel (a sealed jar or can).
---