noun
The definition of cannoli is a tube-shaped Italian pastry filled with sweet cream and ricotta cheese, sometimes with candied fruit or chocolate sprinkles.

An example of a cannoli is a treat served during Carnevale in Palermo, Italy.
YourDictionary definition and usage example. Copyright © 2013 by LoveToKnow Corp.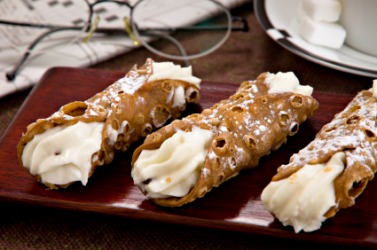 Three sweet Italian cannolis.
Licensed from iStockPhoto
---
plural noun
Italian pastry formed in tubes, deep-fried, and filled with sweetened ricotta cheese and, variously, chocolate, candied fruit, nuts, or liqueur
Webster's New World College Dictionary
Copyright © 2010 by Wiley Publishing, Inc., Cleveland, Ohio.
Used by arrangement with John Wiley & Sons, Inc.
---
noun
pl.
can·no·lis
A fried pastry roll with a sweet creamy filling.
Origin: Italian, pl. of cannolo, tube, diminutive of canna, reed, from Latin; see cane.
cannoli
The American Heritage® Dictionary of the English Language
, 4th edition Copyright © 2010 by Houghton Mifflin Harcourt Publishing Company. Published by Houghton Mifflin Harcourt Publishing Company. All rights reserved.