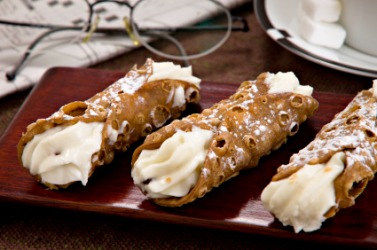 Three sweet Italian cannolis.
noun
The definition of cannoli is a tube-shaped Italian pastry filled with sweet cream and ricotta cheese, sometimes with candied fruit or chocolate sprinkles.

An example of a cannoli is a treat served during Carnevale in Palermo, Italy.
---
cannoli
plural noun
Italian pastry formed in tubes, deep-fried, and filled with sweetened ricotta cheese and, variously, chocolate, candied fruit, nuts, or liqueur
---
cannoli
noun
pl.
can·no·lis
A fried pastry roll with a sweet creamy filling.
Origin of cannoli
Italian, pl. of
cannolo
,
tube
, diminutive of
canna
,
reed
, from Latin; see
cane
.
cannoli
---
cannoli
Usage notes
Those with a good knowledge of the Italian language may use singular cannolo and plural cannoli, but English speakers without this experience will generally use "a cannoli"/"two cannolis".
Origin
From Italian cannoli, little tubes.
---