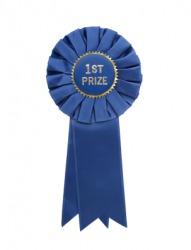 This ribbon will be given to the best.
adjective
The definition of best is better than all others.

An example of best is the first prize award at the science fair.
adverb
Best means in the greatest advantage or manner.

An example of best is tutoring with the most capable tutor for a struggling peer.
noun
Best is defined as the greatest degree or highest efforts.

An example of best is having tried as hard as possible to finish a race.
---
best
adjective
good
of the most excellent sort; surpassing all others
most suitable, most desirable, most favorable, most profitable, etc.
being almost the whole; largest: it took the best part of an hour
Origin of best
Middle English
best, betst
; from Old English
betst
(akin to Gothic
batists
) ; from uncertain or unknown; perhaps Indo-European base an unverified form
bhad-
, good from source Sanskrit
bhadrá-ḥ,
fortunate, good
adverb
well
in the most excellent manner; in the most suitable way
in the highest degree; to the greatest extent; most
noun
people of the highest worth, ability, or reputation: among the best in his profession
the thing, condition, circumstance, action, etc. that is most excellent, most suitable, etc.
the most one can do; utmost: to do one's best
advantage: to get the best of an opponent
one's finest clothes
transitive verb
to win out over; defeat or outdo
all for the best
turning out to be good or fortunate after all
at best
under the most favorable conditions or interpretation
at most
at one's best
in one's best mood, form, health, etc.
had best
ought to; would be prudent or wise to
make the best of
to do as well as one can with
---
best
adjective
Superlative of
good
.
Surpassing all others in excellence, achievement, or quality; most excellent: the best performer; the best grade of ore.
Most satisfactory, suitable, or useful; most desirable: the best solution; the best time for planting.
Greatest; most: He spoke for the best part of an hour.
Most highly skilled: the best doctor in town.
adverb
Superlative of
well
2
.
In a most excellent way; most creditably or advantageously.
To the greatest degree or extent; most: "He was certainly the best hated man in the ship" (W. Somerset Maugham).
noun
One that surpasses all others.
The best part, moment, or value: The best is still to come. Let's get the best out of life.
The optimum condition or quality: look your best. She was at her best in the freestyle competition.
One's nicest or most formal clothing.
The supreme effort one can make: doing our best.
One's warmest wishes or regards: Give them my best.
transitive verb
best·ed
,
best·ing
,
bests
To get the better of; beat: "I'm a rough customer, I expect, but I know when I'm bested" (Nathanael West).
Origin of best
Middle English, from Old English
betst
; see
bhad-
in Indo-European roots.
Usage Note:
According to a traditional rule of grammar,
better,
not
best,
should be used in comparisons between two things:
Which house of Congress has the better attendance record?
This rule is often ignored in practice, but it still has many devoted adherents. In certain fixed expressions, however,
best
is used idiomatically for comparisons between two:
Put your best foot forward. May the best team win!
See Usage Notes at
have
,
rather
.
---
best
---
best
Variant of good
adjective
better, best
suitable to a purpose; effective; efficient: a lamp good to read by
producing favorable results; beneficial; salutary: good exercise for the legs
in accord with prevailing usage: good English
clever or witty: a good quip

fertile: good soil fresh; unspoiled; uncontaminated: good eggs valid; genuine; real: good money, a good excuse healthy; strong; vigorous: good eyesight financially safe or sound: a good investment honorable; worthy; respectable: one's good name enjoyable, desirable, pleasant, happy, etc.: a good life dependable; reliable; right: good advice thorough; complete: a good job of cleaning up

excellent of its kind: a good novel
best or considered best: her good china

adequate; ample; sufficient; satisfying: a good meal morally sound or excellent; specif.,

virtuous; honest; just
pious; devout
kind, benevolent, generous, sympathetic, etc.
well-behaved; dutiful

proper; becoming; correct: good manners
socially acceptable: a good family

able; skilled; expert: a good swimmer loyal or conforming: a good Democrat

Law

effectual; valid: good title
to a considerable amount, extent, or degree: a good many, a good beating at least; full: we waited a good six hours
Origin of good
Middle English
gode
; from Old English
gōd
, akin to German
gut
; from Indo-European base an unverified form
ghedh-
, to unite, be associated, suitable from source gather
noun
something good; specif.,
that which is morally right
worth; virtue; merit: the good in a man
something contributing to health, welfare, happiness, etc.; benefit; advantage: the greatest good of the greatest number
something desirable or desired
interjection
used to express satisfaction, pleasure, agreement, etc. and, in some exclamatory phrases, to express surprise, consternation, etc.: orig. a euphemism for God: good!good grief!)
adverb
well, completely, fully, etc.: variously regarded as substandard, dialectal, or informal
as good as
in effect; virtually; nearly
come to no good
to come to a bad end; end in failure, trouble, etc.
for good (and all)
for always; finally; permanently
good and
☆
Informal
very or altogether
good for
able to survive, endure, or be used for (a specified period of time)
worth: a coupon good for 10¢
able to pay, repay, or give
sure to result in: good for a laugh
☆ used to express approval: good for you!
the good
those who are good
what is morally good
to the good
as a profit, benefit, or advantage