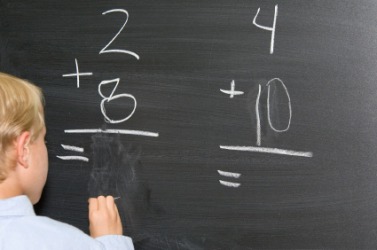 A child does addition problems on the blackboard.
noun
The definition of addition is the process of bringing two or more numbers or things together.

Calculating the sum of 25 and 60 is an example of addition.
---
addition
an adding of two or more numbers to get a number called the sum
a joining of a thing to another thing
a thing or part added; increase; specif., a room or rooms added to a building

Law

an identifying title or mark of status after a person's name (Ex.: John Smith, Esq.)
Origin of addition
Middle English
addicion
from Old French
addition
from Classical Latin
additio
from
addere
: see add
---
addition
noun
Mathematics

a. The operation that, for positive integers, consists of increasing by a definite number of increments of 1. The operation is extended to other numbers according to the additive properties of positive integers and other algebraic properties.

b. Any of certain analogous operations involving mathematical objects other than numbers.

The process of adding or joining something to something else, typically to make it larger: The addition of a porch to the house would increase its resale value.
Something added: This painting would make a fine addition to the museum's collection.
Origin of addition
Middle English
from
Old French
from
Latin
additiō
additiōn-
from
additus
past participle of
addere
to add
; see
add
.
Related Forms:
---
addition

---