waning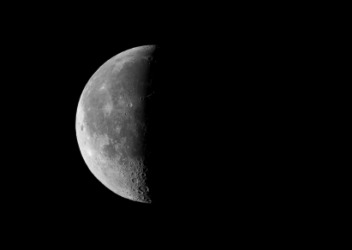 The waning moon.
verb
Waning is defined as fading or becoming less strong or powerful.

When the moon goes from a full moon to a crescent moon, this is an example of a time when it is waning.
When you were extremely interested in tennis and now you are only kind of interested in tennis, this is an example of a time when your interest in tennis is waning.
---
waning
Adjective
(not comparable)
Especially of the lunar phase as it shrinks when viewed from the Earth.

the waning moon
Noun
(plural wanings)
The fact or act of becoming less or less intense.

the waning of her energy

The fact or act of becoming smaller.
Verb
Present participle of wane.
---
waning
Variant of wane
intransitive verb
waned, waning
to grow gradually less in extent: said esp. of the visible face of the moon during the phases after full moon in which the lighted portion is gradually reduced to a thin crescent on the left, as seen from the Northern Hemisphere
to become less intense, bright, strong, etc.; grow dim or faint, as a light
to decline in power, importance, prosperity, influence, etc.
to approach the end: said of a period of time: the day wanes
Origin of wane
Middle English
wanien
; from Old English
wanian
, to decrease, grow less, akin to
wan
, lacking: for Indo-European base see want
noun
the gradual decrease in the visible face of the moon after it has become full
the time when this takes place

a gradual decrease in power, importance, intensity, etc., esp. after a gradual climb to a peak
a period of decline
the beveled, defective, bark-covered edge or corner of a board or plank cut from an unsquared log or block of wood
on the wane
waning, declining, decreasing, etc.