vocabulary
vo·cabu·lary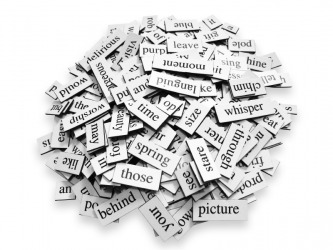 The words you know make up your vocabulary.
noun
Vocabulary is the all the language and words either used or understood by a person or group of people.

An example of vocabulary is all the words that a toddler understands.
An example of vocabulary is the language used by doctors.
---
vocabulary
pl.
-·lar·ies
a list of words and, often, phrases, abbreviations, inflectional forms, etc., usually arranged in alphabetical order and defined or otherwise identified, as in a dictionary or glossary
all the words of a language

all the words used by a particular person, socioeconomic group, profession, etc.

in full

active vocabulary

all the words recognized and understood, although not necessarily used, by a particular person

in full

passive vocabulary

an interrelated group of nonverbal symbols, signs, gestures, etc. used for communication or expression in a particular art, skill, etc.
Origin of vocabulary
Medieval Latin
vocabularium
; from Classical Latin
vocabulum,
a word: see vocable
---
vocabulary
noun
pl.
vo·cab·u·lar·ies
All the words of a language.
The sum of words used by, understood by, or at the command of a particular person or group.
A list of words and often phrases, usually arranged alphabetically and defined or translated; a lexicon or glossary.
A supply of expressive means; a repertoire of communication: a dancer's vocabulary of movement.
Origin of vocabulary
French
vocabulaire
, from Old French, from Medieval Latin
vocābulārium
, from neuter of
vocābulārius
,
of words
, from Latin
vocābulum
,
name
; see
vocable
.
---
vocabulary
Noun
(plural vocabularies)
A usually alphabetized and explained collection of words e.g. of a particular field, or prepared for a specific purpose, often for learning.
The collection of words a person knows and uses.

My Russian vocabulary is very limited.

The stock of words used in a particular field.

The vocabulary of social sciences is often incomprehensible to ordinary people.

The words of a language collectively.

The vocabulary of any language is influenced by contacts with other cultures.

A range of artistic or stylistic forms or techniques
---