traffic

traf·fic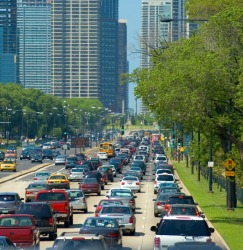 This city has a lot of traffic.
noun
Traffic is defined as vehicles or people in the vehicles, a delay that involves transportation or movement through a designated location.

An example of traffic is people driving in cars.
An example of traffic is a heavy delay in a railroad system.
An example of traffic is how many hits a website gets daily.
---
traffic
Archaic

transportation of goods for trading
trading over great distances; commerce

buying and selling; barter; trade, sometimes, specif., of a wrong or illegal kind: traffic in drugs
dealings or business (with someone)

the movement or number of automobiles along a street, pedestrians along a sidewalk, ships using a port, etc.
the automobiles, pedestrians, ships, etc. so moving

the number of passengers, quantity of freight, etc. carried by a transportation company during a given period
the volume of telegrams, calls, etc. transmitted by a communications company during a given period
the number of potential customers entering a retail store during a given period
Origin of traffic
French
trafic
from Italian
traffico
from
trafficare
, to trade from Classical Latin
trans
, across + Italian
ficcare
, to thrust in, bring from Vulgar Latin an unverified form
figicare
, intensive for Classical Latin
figere
: see finish
of or having to do with traffic: a traffic violation, traffic manager
intransitive verb
-·ficked

,

-·fick·ing
to carry on traffic, esp. illegal trade (in a commodity)
to have traffic, trade, or dealings (with someone)
---
traffic
noun
a. The passage of people or vehicles along routes of transportation.

b. Vehicles or pedestrians in transit: heavy traffic on the turnpike; stopped oncoming traffic to let the children cross.

a. The commercial exchange of goods; trade.

b.

Illegal or improper commercial activity:

drug traffic on city streets.

See Synonyms at

business

.

a. The business of moving passengers and cargo through a transportation system.

b. The amount of cargo or number of passengers conveyed.

a. The conveyance of messages or data through a system of communication: routers that manage internet traffic.

b. Messages or data conveyed through such a system: a tremendous amount of telephone traffic on Mother's Day; couldn't download the file due to heavy internet traffic.

c. The number of users or visitors, as at a website: attempted to increase traffic with a redesigned homepage.

Social or verbal exchange; communication: refused further traffic with the estranged friend.
verb
traf·ficked, traf·fick·ing, traf·fics
intransitive verb
To carry on trade or other dealings: trafficked in liquidation merchandise; traffic with gangsters.
transitive verb
To provide to others, especially in large quantities, in exchange for money: was accused of trafficking guns to local gangs.
Origin of traffic
French
trafic
from
Old French
trafique
from
Old Italian
traffico
from
trafficare
to trade
perhaps from
Catalan
trafegar
to decant
from
Vulgar Latin
trānsfaecāre
trāns-
trans-
faex
faec-
dregs
; see
feces
.
Related Forms:
---
traffic

Verb
(third-person singular simple present traffics, present participle trafficking, simple past and past participle trafficked)
(intransitive) To pass goods and commodities from one person to another for an equivalent in goods or money; to buy or sell goods; to barter; to trade.
(intransitive) To trade meanly or mercenarily; to bargain.
To exchange in traffic; to effect by a bargain or for a consideration.
---
traffic - Computer Definition

The total volume of cells, blocks, frames, packets, calls, messages, or other units of data carried over a circuit or network, or processed through a switch, router, or other system.
---
Data transmitted over a network. Traffic is a very general term and typically refers to overall network usage at a given moment. However, it can refer to specific transactions, messages, records or users in any kind of data or telephone network. See PPS.
---