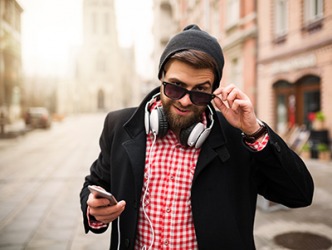 Dylan likes to use his seductive stare when posing for the camera because he thinks that it makes him look irresistible.
adjective
The definition of seductive is behavior that is tempting.

An example of seductive is someone dancing in a sexy way to attract someone to come dance.
---
seductive
tending to seduce, or lead astray; tempting; enticing
Origin of seductive
from Classical Latin
seductus
, past participle of
seducere
(see seduce) + -ive
---
seductive
adjective
Tending to seduce; alluring: seductive lingerie; the seductive smell of freshly baked cinnamon rolls.
Related Forms:
---
seductive

Adjective
(comparative more seductive, superlative most seductive)
Attractive, alluring, tempting.

Evil is said to be seductive, which is one reason why people do what they know they shouldn't.
Usage notes
Nouns to which "seductive" is often applied: woman, lady, girl, power, art, image, behavior, smile, dress, dance, tango, song, etc.
---