noun
The definition of a rose is a flower in the genus Rosa or something that looks like such a flower, or a color that is a dark pink shade.

An example of a rose is the popular Valentine's Day flower.
An example of rose is the color of blushing cheeks.
verb
Rose is defined as to have gotten up or gone higher in the past.

An example of rose is for the ocean to have gone above normal high tide levels yesterday.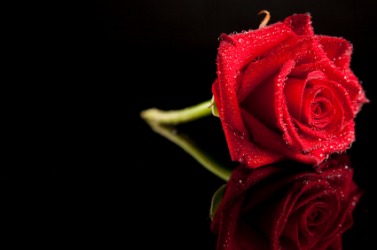 A beautiful red rose.
---
rose definition by Webster's New World
noun
any of a genus (Rosa) of shrubs of the rose family, characterized by prickly stems, pinnate leaves, and fragrant flowers with five petals that are usually white, yellow, or, often specif., red or pink
the flower of any of these plants
any of several similar or related plants
pinkish red or purplish red
rosette
a round, perforated nozzle for a hose, sprinkling can, etc.

a form in which gems, esp. diamonds, are cut, with a flat, round base and a multifaceted upper surface
a gem cut in this way

a compass card or a representative of this, as on maps
Origin: Middle English ; from Old English ; from Classical Latin rosa ; from Classical Greek rhodon: see Rhoda
adjective
of or having to do with a rose or roses
rose-colored
rose-scented
designating a large and widely distributed family (Rosaceae, order Rosales) of wild and cultivated dicotyledonous shrubs and trees, including cinquefoils, meadowsweets, hawthorns, strawberries, apples, peaches, and almonds
intransitive verb
,
transitive verb
rise
noun
a feminine name: dim. Rosie; var. Rosita; equiv. It. & Sp. Rosa
Origin: see rose
Webster's New World College Dictionary Copyright © 2010 by Wiley Publishing, Inc., Cleveland, Ohio. Used by arrangement with John Wiley & Sons, Inc.
---
rose definition by American Heritage Dictionary
noun
A member of the rose family.

a. Any of numerous shrubs or vines of the genus Rosa, having prickly stems, pinnately compound leaves, and variously colored, often fragrant flowers.

b. The flower of any of these plants.

c. Any of various similar or related plants.

A dark pink to moderate red.
An ornament, such as a decorative knot, resembling a rose in form; a rosette.
A perforated nozzle for spraying water from a hose or sprinkling can.

a. A form of gem cut marked by a flat base and a faceted, hemispheric upper surface.

b. A gem, especially a diamond, cut in this manner.

A rose window.
A compass card or its representation, as on a map.
roses That which is marked by favor, success, or ease of execution: Directing this play has been all roses since the new producer took over.
adjective
Of the color rose.
Relating to, containing, or used for roses.
Scented or flavored with or as if with roses.
Origin: Middle English, from Old English, from Latin rosa.
Word History:
It is etymologically correct to drink a julep while watching the Run for the Roses. The English word
rose
comes from Latin and Old French. Latin
rosa
may be an Etruscan form of Greek
Rhodia,
"Rhodian, originating from Rhodes." The Attic Greek word for rose is
rhodon,
and in Sappho's Aeolic dialect of Greek it is
wrodon.
In Avestan, the language of the Persian prophet Zoroaster, "rose" is
varəda
and in Armenian
vard,
words both related to the Aeolic form. The Modern Persian word for "rose" is
gul
(which, believe it or not, is descended from a form quite similar to
varəda
through a series of regular sound changes); and
gul-āb
is "rose-water."
Gulāb
is also a drink made of water and honey or syrup. The name of this Persian treat was borrowed into Arabic as
julāb
and then, through Spanish and French, became
julep
in English, the ambrosia for sipping on Derby Day.
, Billy 1899-1966.
American impresario and songwriter who produced Crazy Quilt (1931) and other musical comedies and wrote several popular songs, including "Me and My Shadow."
, Peter Edward Known as "Pete." Born 1942.
American baseball player who played with the Cincinnati Reds from 1963 to 1978 and returned as the team's manager in 1984. During his playing career he set 24 major-league records, including hits (4,256). He was banned from the sport in 1989 for betting on baseball games.
, Mount
A mountain, 3,287.3 m (10,778 ft) high, of western Nevada. It is in a winter sports area near Reno and Lake Tahoe.
noun
A light pink wine made from purple grapes, with the skins being removed from the juice during fermentation as soon as the desired color has been attained.
Origin: French (vin) rosé, pink (wine), from Old French, from rose, rose; see rose 1.
The American Heritage® Dictionary of the English Language, 4th edition Copyright © 2010 by Houghton Mifflin Harcourt Publishing Company. Published by Houghton Mifflin Harcourt Publishing Company. All rights reserved.
---
rose - Phrases/Idioms
come up roses
Informal
to turn out very well
come up roses
To result favorably or successfully:
Those were difficult times but now everything's coming up roses.
rose
Variant of rise
intransitive verb
rose, risen , rising
to stand or assume a vertical or more nearly vertical position, after sitting, kneeling, or lying to get up after sleeping or resting to rebel; revolt to end an official assembly or meeting; adjourn to rise from the dead; resurrect
to go to a higher place or position; ascend to appear above the horizon: the moon rose to attain greater height or a higher level: the river rose rapidly to advance in social status, rank, importance, etc.; become rich, famous, successful, etc. to become erect or rigid to form an elevation; extend upward: the tower rising above the trees to have an upward incline or slant: hills rising steeply to move upward to the surface of the water, as a fish seeking to take a fly, bait, etc.
to increase in amount, degree, quantity, price, etc. to increase in volume of sound; become louder, shriller, etc. to become stronger, more vivid, more buoyant, etc.: his spirits rose to become larger and puffier: used esp. of dough containing yeast
to originate, begin, or spring up to have its source: said of a stream to happen; occur to become apparent to the senses or the mind: land rising ahead of the ship to be stirred up; become aroused: to make someone's temper rise to be built: a house rising on the hill
Origin: Middle English risen ; from Old English risan, akin to Old High German risan, Old Norse risa ; from Indo-European an unverified form ereis-, extension of base an unverified form er-, to set in motion, raise from source run, Classical Latin oriri, to rise, Classical Greek ornynai, to arouse
transitive verb
to cause to rise, as birds from cover or a fish to the surface of the water
noun
the actual or refracted appearance of the sun, moon, etc. above the horizon
upward movement; ascent
an advance in social status, rank, importance, etc.
the appearance of a fish at the water's surface
a piece of high or rising ground; hill
a slope upward
the vertical height of something, as of a flight of stairs or a single step
an increase in

height, as of water level
volume or pitch of a sound
degree, amount, price, value, etc.

a beginning, origin, springing up, etc.

Brit.

a raise (in wages, etc.)