rose

ro·sé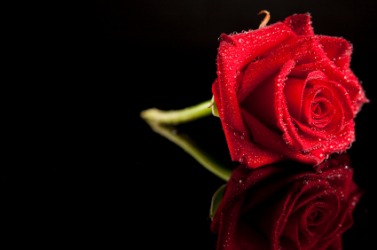 A beautiful red rose.
noun
The definition of a rose is a flower in the genus Rosa or something that looks like such a flower, or a color that is a dark pink shade.

An example of a rose is the popular Valentine's Day flower.
An example of rose is the color of blushing cheeks.
verb
Rose is defined as to have gotten up or gone higher in the past.

An example of rose is for the ocean to have gone above normal high tide levels yesterday.
---
rose
any of a genus (Rosa) of shrubs of the rose family, characterized by prickly stems, pinnate leaves, and fragrant flowers with five petals that are usually white, yellow, or, often specif., red or pink
the flower of any of these plants
any of several similar or related plants
pinkish red or purplish red
rosette
a round, perforated nozzle for a hose, sprinkling can, etc.

a form in which gems, esp. diamonds, are cut, with a flat, round base and a multifaceted upper surface
a gem cut in this way

a compass card or a representation of this, as on maps
Origin of rose
Middle English from Old English from Classical Latin
rosa
from Classical Greek
rhodon:
see Rhoda
of or having to do with a rose or roses
rose-colored
rose-scented
designating a large and widely distributed family (Rosaceae, order Rosales) of wild and cultivated dicotyledonous shrubs and trees, including cinquefoils, meadowsweets, hawthorns, strawberries, apples, peaches, and almonds
transitive verb
rosed

,

ros′ing
to make rose-colored; specif., to flush (the cheeks, etc.)
come up roses
Informal
to turn out very well
Rose
a feminine name: dim. Rosie; var. Rosita; equiv. It. & Sp. Rosa
Origin of Rose
see rose
rosé
a pink wine made from certain red-wine grapes, with the skins left in the juice during early fermentation just long enough to tinge it with color
Origin of rosé
Fr, literally , pink
---
rose
noun
A member of the rose family.

a. Any of numerous shrubs or vines of the genus Rosa, having prickly stems and pinnately compound leaves, widely cultivated for their showy, often fragrant flowers.

b. The flower of any of these plants.

c. Any of various other plants, especially one having similar flowers.

A dark pink to moderate red.
An ornament, such as a decorative knot, resembling a rose in form; a rosette.
A perforated nozzle for spraying water from a hose or sprinkling can.

a. A form of gem cut marked by a flat base and a faceted, hemispheric upper surface.

b. A gem, especially a diamond, cut in this manner.

A rose window.
A compass card or its representation, as on a map.
roses That which is marked by favor, success, or ease of execution: Directing this play has been all roses since the new producer took over.
adjective
Of the color rose.
Relating to, containing, or used for roses.
Scented or flavored with or as if with roses.
Origin of rose
Middle English
from
Old English
from
Latin
rosa
Word History:
It is etymologically correct to drink a julep while watching the Run for the Roses. The English word
rose
comes from Latin and Old French. Latin
rosa
may be an Etruscan form of Greek
Rhodia,
"Rhodian, originating from Rhodes." The Attic Greek word for rose is
rhodon,
and in Sappho's Aeolic dialect of Greek it is
wrodon.
In Avestan, the language of the Persian prophet Zoroaster, "rose" is
varəda
and in Armenian
vard,
words both related to the Aeolic form. The Modern Persian word for "rose" is
gul
(which, believe it or not, is descended from a form quite similar to
varəda
through a series of regular sound changes); and
gul-āb
is "rose-water."
Gulāb
is also a drink made of water and honey or syrup. The name of this Persian treat was borrowed into Arabic as
julāb
and then, through Spanish and French, became
julep
in English, the ambrosia for sipping on Derby Day.
noun
A light pink wine made from purple grapes, with the skins being removed from the juice during fermentation as soon as the desired color has been attained.
Origin of rose
French
(vin) rosé
pink (wine)
from
Old French
from
rose
rose
; see
rose
1
.
---
rose

Noun
(plural roses)
A flower of the rose plant.
A plant or species in the rose family. (Rosaceae)
Something resembling a rose flower.
A round nozzle for a sprinkling can or hose.
The base of a light socket.
Verb
(third-person singular simple present roses, present participle rosing, simple past and past participle rosed)
(poetic) To perfume, as with roses.
Adjective
(not comparable)
Having a purplish-red or pink colour. See rosy.
Origin
From Old English rōse, from Latin rosa, from Oscan, from Ancient Greek ῥόδον (rhódon) (Aeolic ϝρόδον (wródon)), from Old Persian *wá¹›da- ("flower") (compare Avestan 𐬬𐬀𐬭𐬆𐬜𐬀 (varǝδa-), Sogdian ward, Parthian wâr, late Middle Persian gwl (gul), Persian Ú¯Ù" (gul), and Middle Iranian borrowings including Old Armenian Õ¾Õ¡Ö€Õ¤ (vard), Aramaic וַרְדָּא (wardā) / ܘܪܕܐ (wardā), Arabic وَرْدَة (warda(t)), Hebrew וֶרֶד (wéreḏ)), from Proto-Indo-European *wrÌ¥dÊ°os ("sweetbriar") (compare Old English word ("thornbush"), Latin rubus ("bramble"), Albanian hurdhe ("ivy")). Possibly ultimately a derivation from a verb for "to grow" only attested in Indo-Iranian (*Hwardh-, compare Sanskrit vardh-, with relatives in Avestan).
Verb
Simple past tense of rise.
Noun
(plural roses)
Alternative spelling of rosé.
Origin
From French rosé ("pinkish").
Proper noun
A female given name.
A surname.
Noun
(plural Roses)
(Ireland, informal) A regional contestant in the annual Rose of Tralee contest.
(Ireland, informal) The winner of that year's contest.
Usage notes
The contestants are usually referred to by the place they are representing, such as London Rose or Galway Rose. The winner is normally later referred to by the year she won the contest, such as "the 2009 Rose".
The word is sometimes written with a lower case "r".
More formally, the full term, Rose of Tralee is used.
Origin
From a Norman name of Germanic origins, likely made up of hrod "fame" and heid "kind, sort, type". Introduced to England in the form Roese or Rohese. Later conflated with the vernacular word "rose", and associated with the flower names that first became popular in the end of the 19th century. Also a nickname for names beginning with Rose-/Rosa-.
The surname may be matronymic, but more probably topographic from residence by rose bushes or the sign of a rose, or a nickname from rosy complexion.
Adjective
(comparative more ærose, superlative most ærose)
Obsolete spelling of aerose.
---