reminiscent

rem·i·nis·cent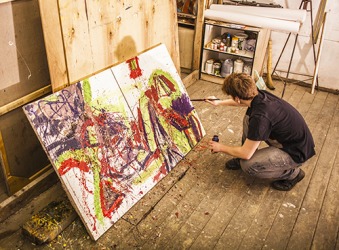 Kedrick's paintings are reminiscent of the famous American abstract expressionist artist Jackson Pollock.
adjective
The definition of reminiscent is a person or thing that tends to remind you of something or that resembles someone.

An example of something that would be described as reminiscent is a painting by a new painter that resembles a Picasso and that reminds you of a Picasso.
---
reminiscent
having the nature of or characterized by reminiscence
given to reminiscing, or recalling past experiences
bringing to mind something else; suggestive (of)
Origin of reminiscent
Classical Latin
reminiscens,
present participle of
reminisci
from
re-,
again +
memini,
to remember: for Indo-European base see mind
---
reminiscent
adjective
Having the quality of or containing reminiscence.
Inclined to engage in reminiscence.
Tending to recall or suggest something in the past: an evening reminiscent of happier times.
Origin of reminiscent
Latin
reminīscēns
reminīscent-
present participle of
reminīscī
to recollect
; see
men-
1
in Indo-European roots.
Related Forms:
---
reminiscent

Noun
(plural reminiscents)
One who is addicted to indulging, narrating, or recording reminiscences.
---