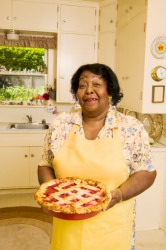 When I stopped by to visit Grandma Esther, the redolent scent of her cherry pie reminded me of my youth when I spent summers at her house.
adjective
The definition of redolent is someone or something that bring back strong memories or a strong association.

If the smell of fresh flowers always reminds you of spring, this is an example of a situation where you would say that the smell of fresh flowers is redolent of spring.
When a house smells strongly of lemon, the house could be described as redolent of lemon.
---
redolent
sweet-smelling; fragrant
smelling (of): redolent of the ocean
suggestive or evocative (of)
Origin of redolent
Old French from Classical Latin
redolens,
present participle of
redolere,
to emit a scent from
re(d)-,
intensive +
olere,
to smell (akin to
odor,
odor)
---
redolent
adjective
Having or emitting an odor or fragrance; aromatic: "Passionately clean, she was always redolent of the germicidal soap she used so vigorously" ( Dorothy Parker )
Suggestive; reminiscent: a campaign redolent of machine politics.
Origin of redolent
Middle English
from
Old French
from
Latin
redolēns
redolent-
present participle of
redolēre
to smell
re-, red-
re-
olēre
to smell
Related Forms:
---
redolent

Adjective
(comparative more redolent, superlative most redolent)
Having the smell of the article in question.
(idiomatic) Suggestive or reminiscent.
---