reminiscence

rem·i·nis·cence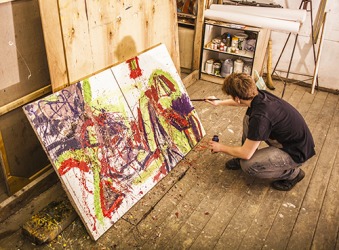 People say that Kedrick's paintings have a reminiscence to Jackson Pollock's style.
noun
The definition of a reminiscence is a memory, or a story about past events, or something that brings to mind another thing.

When you tell or think back on a story about your childhood, this is an example of a reminiscence.
When the works of a new artist resemble or bring to mind the works of an existing artist, this is an example of reminiscence.
---
reminiscence
the act of remembering or recollecting past experiences
a memory or recollection
[pl.] an account, written or spoken, of remembered experiences
something that suggests or recalls something else; reminder
Origin of reminiscence
French
réminiscence
from Late Latin
remeniscentia:
see reminiscent
---
reminiscence
noun
The act or process of recollecting past experiences or events.
An experience or event recollected: "Her mind seemed wholly taken up with reminiscences of past gaiety" ( Charlotte Brontë )
often reminiscences A narration of past experiences.
An event that brings to mind a similar, former event.
---
reminiscence

Noun
(plural reminiscences)
An act of remembering long-past experiences, often fondly.
Origin
From Late Latin reminÄ«scentiae ("remembrances"), from Latin reminÄ«scÄ"ns, present active participle of reminÄ«scor ("remember"); see reminiscent.
---