rehabilitate

re·ha·bil·i·tate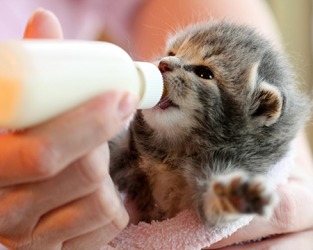 Karen fosters and rehabilitates abandoned kittens until they are old enough to be adopted.
verb
Rehabilitate is defined as to restore, or to bring back into good condition.

An example of rehabilitate is to nurse a sick kitten back to health.
---
rehabilitate
transitive verb
-·tat·ed

,

-·tat·ing
to restore to rank, privileges, or property which one has lost
to restore the good name or reputation of; reinstate in good repute
to put back in good condition; reestablish on a firm, sound basis

to bring or restore to a normal or optimal state of health, constructive activity, etc. by medical treatment and physical or psychological therapy
to prepare (a disabled person, an inmate, etc.) for useful employment or successful integration into society by counseling, training, etc.
Origin of rehabilitate
from Medieval Latin
rehabilitatus,
past participle of
rehabilitare,
to restore: see re- and habilitate
---
rehabilitate
transitive verb
re·ha·bil·i·tat·ed, re·ha·bil·i·tat·ing, re·ha·bil·i·tates
To restore to good health or useful life, as through therapy and education: rehabilitate a patient; rehabilitate a prison inmate.
To restore to good condition: rehabilitate a storefront; rehabilitate the economy.
To cause to be regarded again in a positive way; reestablish esteem for: rehabilitate a reputation; rehabilitate a forgotten poet.
To restore the former rank, privileges, or rights of: Under the new regime, party members who had been sent to prison were rehabilitated.
Origin of rehabilitate
Medieval Latin
rehabilitāre
rehabilitāt-
to restore to a former rank
Latin
re-
re-
Late Latin
habilitāre
to enable
; see
habilitate
.
Related Forms:
re′ha·bil′i·tat′a·ble

adjective
re′ha·bil′i·ta′tive

adjective
---
rehabilitate

Verb
(third-person singular simple present rehabilitates, present participle rehabilitating, simple past and past participle rehabilitated)
To restore (someone) to their former state, reputation, possessions, status etc. [from 16th c.]
To vindicate; to restore the reputation or image of (a person, concept etc.). [from 18th c.]
To return (something) to its original condition. [from 19th c.]
(North America) To restore or repair (a vehicle, building); to make habitable or usable again. [from 19th c.]
To restore to (a criminal etc.) the necessary training and education to allow for a successful reintegration into society; to retrain. [from 19th c.]
To return (someone) to good health after illness, addiction etc. [from 19th c.]
(intransitive) To go through such a process; to recover. [from 20th c.]
Origin
From the participle stem of Late Latin rehabilitare, from Latin re- + habilitāre.
---