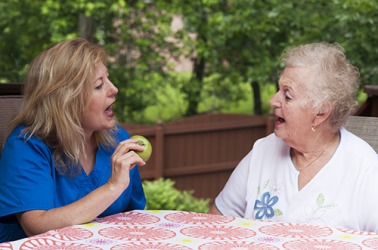 After Louise had a stroke, she needed rehab with a speech therapist to learn how to speak again.
noun
Rehab is defined as treatment for an addiction or to a course of treatment that helps you to get better after a medical problem.

When you are addicted to drugs and get sent to a facility to learn how to break your addiction, this is an example of rehab.
When you have a stroke and have to learn to walk and talk again, this process is an example of rehab.
---
rehab
transitive verb
-·habbed·

,

-·hab·bing
rehabilitate: to rehab an old house
to undergo rehabilitation
---
rehab
Informal
noun
Rehabilitation, especially a program of treatment for an injury or an addiction.
Something, especially a building, that has undergone rehabilitation.
transitive verb
re·habbed, re·hab·bing, re·habs
To rehabilitate: "purchased and rehabbed eight units of housing" ( Hatfield MA Valley Advocate )
Related Forms:
---
rehab

Verb
(third-person singular simple present rehabs, present participle rehabbing, simple past and past participle rehabbed)
To rehabilitate.
Usage notes
This is the customary abbreviation of this term as used in case citations. See, e.g., The Bluebook: A Uniform System of Citation, Nineteenth Edition (2010), "Case Names and Institutional Authors in Citations", Table T6, p. 430-431.
See also:
rehab
---