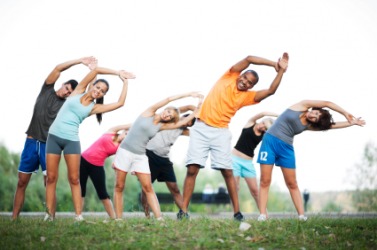 A group of people engaged in an exercise regimen.
noun
The definition of a regimen is a system of eating and exercising for improving your health.

An example of a regimen is a daily practice of doing 100 jumping jacks each morning before you go on a three mile run.
---
regimen
Rare

the act of governing; government; rule
a particular system of government; regime

a regulated system of diet, exercise, medication, etc. for therapy or the maintenance or improvement of health
Origin of regimen
Middle English from L, rule, government from
regere,
to rule: see right
---
regimen
noun
a. A regulated system, as of medication, diet, or exercise, used to promote health or treat illness or injury.

b. A procedure, program, or routine: a regimen of mathematics seminars.

A systematic way of managing something: a crop regimen.
Archaic Governmental rule or control.
Origin of regimen
Middle English
from
Latin; see
regime
.
---
regimen

---