menu

men·u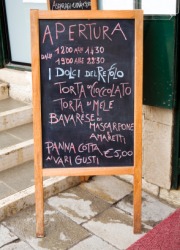 A menu outside of an Italian restaurant.
noun
The definition of a menu is a list of available choices.

An example of menu is a list of food available in an Italian restaurant.
An example of menu is a list of television channels.
---
menu
noun
pl.
men′us
a detailed list of the foods served at a meal or of the foods available at a restaurant; bill of fare
the foods served

a list, displayed as on a computer video screen, of the various operations or options available for selection by the user
Origin of menu
Fr, small, detailed from Classical Latin
minutus:
see minute
---
menu
noun
A list of the dishes to be served or available for a meal.
The dishes served or available at a meal.
A list of available options, especially as displayed on a screen.
Origin of menu
French
small, minute, menu
from
Old French
menut
small
from
Latin
minūtus
past participle of
minuere
to diminish
; see
mei-
2
in Indo-European roots.
Word History:
Menu
can be traced back to the Latin word
minūtus,
meaning "small in size, amount, or degree" and also "possessing or involving minute knowledge." Latin
minūtus
became Old French
menut
and Modern French
menu,
"small, fine, trifling, minute." The French adjective came to be used as a noun with the senses "detail, details collectively," and "detailed list." As such, it was used in the phrase
menu de repas,
"list of items of a meal," which then was shortened to just
menu.
The French word was then borrowed into English in the 1800s.
---
menu

Noun
(plural menus)
The details of the food to be served at a banquet; a bill of fare.
A printed list of dishes offered in a restaurant.
---
menu - Computer Definition
An on-screen list of available actions a user can perform in a software program. Menu titles may appear as text, icons or both, and selection is made by clicking or tapping the title and selecting from the list. The Disappearing Menu In order to keep making software "slicker," many applications today eliminate the familiar row of menu items that were common years ago. The user has to click an icon to display a hidden menu and then make a selection. See menu bar, menu pane, pull-down menu and Lotus menu.
---