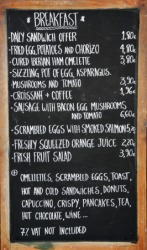 A restaurants bill of fare written on a black board.
---
bill of fare
a list of the foods served; menu
---
bill of fare
noun
pl.
bills of fare
A list of dishes offered; a menu.
A list of items or events in a presentation; a program.
---
bill of fare
Noun
(plural bills of fare)
A written or printed enumeration of the dishes served at a public table, or of the dishes (with prices listed) which may be ordered at a restaurant, etc.
---