operator

op·er·a·tor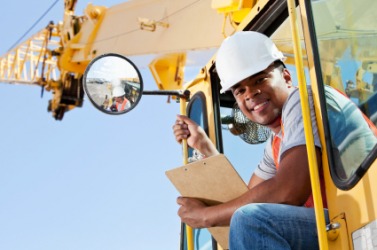 A crane operator.
noun
The definition of an operator is someone who controls a machine, or the manager or owner of a business.

An example of an operator is a person who controls a telephone switchboard.
An example of an operator is someone who controls a crane at a loading dock.
An example of an operator is a person who runs a pest control business.

An operator is defined as someone who is shrewd or manages difficulties easily.

An example of an operator is a person who is an aggressive stock trader.
An example of an operator is a man who can get a woman's phone number at a bar.
---
operator
a person who operates; specif.,

a person who effects something; agent
a person whose work is operating a machine; specif., a person who operates a telephone switchboard: a telephone operator
a person engaged in financial, commercial, or industrial operations; owner or manager of a mine, railroad, factory, etc.

Slang

a clever, persuasive person who generally manages to achieve his or her ends

Math.

any symbol or term conventionally indicating that a certain process, substitution, etc. is to be carried out
---
operator
noun
a. One who operates a machine or device: the operator of a forklift.

b. The owner or manager of a business.

c. A military person who executes a special operation.

d. Informal A person who is adept at accomplishing goals through shrewd or unscrupulous maneuvers.

Mathematics A function, especially one from a set to itself, such as differentiation of a differentiable function or rotation of a vector.
A logical operator.
Genetics A chromosomal segment of DNA that regulates the activity of the structural genes of an operon by interacting with a specific repressor.
---
operator

---
operator - Computer Definition

Someone who operates something, such as a machine. A telephone operator, for example, originally operated a switchboard, which at one time was thought to be a highly complex machine. A contemporary operator mans a PBX console or perhaps a complex traffic service position system (TSPS) console.
A mathematical symbol or term that performs or describes an operation or process. Examples include multiplication, addition, and subtraction signs.
---
(1) An organization that provides communications services. See network operator.
(2) In programming, a symbol used to perform an arithmetic or logical operation. See arithmetic operator and Boolean operator.
(3) A person who operates a computer in a datacenter and performs such activities as commanding the operating system, mounting disks and tapes and placing paper in the printer. Operators may also write the job control language (JCL), which schedules the daily work for the computer. See system development life cycle, job descriptions and salary survey.
---