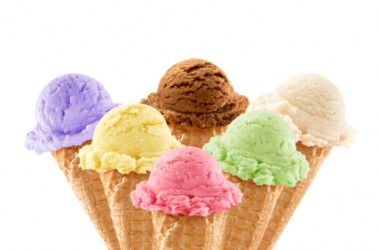 Different flavors of ice cream in cones
noun
The definition of ice cream is a soft, frozen treat made from milk fat.

Ben & Jerry's Chocolate Chip is an example of a flavor of ice cream.
---
ice cream
a rich, sweet, creamy frozen food made from variously flavored cream and milk products churned or stirred to a smooth consistency during the freezing process and often containing gelatin, eggs, fruits, nuts, etc.
Origin of ice cream
origin, originally ,
iced cream
---
ice cream
noun
A sweet, smooth, frozen dessert made from dairy products such as cream or milk, sugar or other sweeteners, and flavorings.
A serving of this dessert: At the ball game, I bought an ice cream.
Related Forms:
---
ice-cream

Noun
(countable and uncountable, plural ice creams)
(uncountable) A dessert made from frozen sweetened cream or a similar substance, usually flavoured.

Strawberries are particularly delicious with ice cream.

(countable) A snack consisting of ice cream on a stick or in a wafer cone.

Can I have some money for an ice cream, Mum?
Noun
Alternative spelling of ice cream.
---