noun
Sherbet is a frozen dessert made with fruit juice, sugar and water with a small amount of dairy, egg white or gelatin.

An example of sherbet is raspberry flavored ice served instead of ice cream at a party.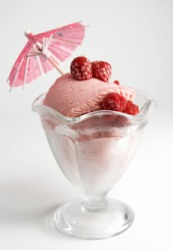 A dish of raspberry sherbet.
---
sherbet definition by Webster's New World
noun
Brit.

a beverage, originally from Asia, made of watered fruit juice and sugar and served cold
a frozen dessert like an ice but with gelatin and, often, milk added
Origin: Turkish ṣerbet ; from Arabic sharba(t), a drink, variant, variety of sharāb: see syrup
Webster's New World College Dictionary Copyright © 2010 by Wiley Publishing, Inc., Cleveland, Ohio. Used by arrangement with John Wiley & Sons, Inc.
---
sherbet definition by American Heritage Dictionary
noun
also sher·bert A frozen dessert made primarily of fruit juice, sugar, and water, and also containing milk, egg white, or gelatin.
Chiefly British A beverage made of sweetened diluted fruit juice.
also sherbert Australian An alcoholic beverage, especially beer.
Origin: Ottoman Turkish, sweet fruit drink, from Persian sharbat, from Arabic šarba, drink, from šariba, to drink; see śrb in Semitic roots.
Word History:
Although the word
sherbet
has been in the English language for several centuries (it was first recorded in 1603), it has not always referred to what one normally thinks of as sherbet.
Sherbet
came into English from Ottoman Turkish
sherbet
or Persian
sharbat,
both going back to Arabic
šarba,
"drink." The Turkish and Persian words referred to a beverage of sweetened, diluted fruit juice that was popular in the Middle East and imitated in Europe. In Europe
sherbet
eventually came to refer to a carbonated drink. Because the original Middle Eastern drink contained fruit and was often cooled with snow,
sherbet
was applied to a frozen dessert (first recorded in 1891). It is distinguished slightly from
sorbet,
which can also mean "a fruit-flavored ice served between courses of a meal."
Sorbet
(first recorded in English in 1585) goes back through French (
sorbet
) and then Italian (
sorbetto
) to the same Turkish
sherbet
that gave us
sherbet.