Galileo
[gal′ə lē′ō, -lā′-]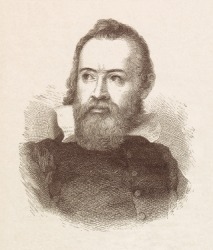 A portrait of Galileo.
---
Galileo
(born Galileo Galilei) 1564-1642; It. astronomer, mathematician, & physicist: with the telescope, which he improved, he demonstrated the truth of the Copernican theory: condemned for heresy by the Inquisition
---
Galileo
Origin
Named in honour of Galileo Galilei
---
galileo - Computer Definition
A satellite-based radio navigation system initiated by the European Union and European Space Administration (ESA). Using 27 satellites and three spares, Galileo was designed to interoperate with the U.S. GPS and Russian GLONASS systems. Completion is expected in 2019 with positioning accuracy of one meter (GPS is 20m; GLONASS is 60m). The first Galileo satellite (GIOVE-A) was launched in late 2005. For more information, visit http://ec.europa.eu/enterprise/policies/satnav/galileo/index_en.htm. See GNSS and GPS.
---