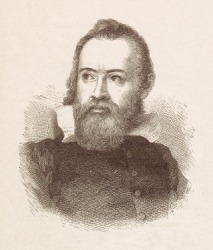 A portrait of Galileo.
Licensed from iStockPhoto
---
(born Galileo Galilei) 1564-1642; It. astronomer, mathematician, & physicist: with the telescope, which he improved, he demonstrated the truth of the Copernican theory: condemned for heresy by the Inquisition
Webster's New World College Dictionary
Copyright © 2010 by Wiley Publishing, Inc., Cleveland, Ohio.
Used by arrangement with John Wiley & Sons, Inc.
---
galileo - Computer Definition
A satellite-based radio navigation system initiated by the European Union and European Space Administration (ESA). Using 27 satellites and three spares, Galileo was designed to interoperate with the U.S. GPS and Russian GLONASS systems. Completion is expected in 2014 with positioning accuracy of one meter (GPS is 20m; GLONASS is 60m). The first Galileo satellite (GIOVE-A) was launched in late 2005. For more information, visit http://ec.europa.eu/enterprise/policies/satnav/galileo/index_en.htm. See GNSS and GPS.
Computer Desktop Encyclopedia
THIS DEFINITION IS FOR PERSONAL USE ONLY
All other reproduction is strictly prohibited without permission from the publisher.
© 1981-2014 The Computer Language Company Inc. All rights reserved.
---
Galileo - Cultural Definition
An Italian scientist of the late sixteenth and early seventeenth centuries; his full name was Galileo Galilei. Galileo proved that objects with different masses fall at the same velocity. One of the first persons to use a telescope to examine objects in the sky, he saw the moons of Jupiter, the mountains on the moon, and sunspots.
Authorities of the Roman Catholic Church forced Galileo to renounce his belief in the model of the solar system proposed by Nicolaus Copernicus. Galileo had to assert that the Earth stands still, and the sun revolves around it. A famous legend holds that Galileo, after making this public declaration about a motionless Earth, muttered, "Nevertheless, it does move."
The New Dictionary of Cultural Literacy
Copyright © 2010 by Houghton Mifflin Harcourt Publishing Company. Published by Houghton Mifflin Harcourt Publishing Company. All rights reserved.